Daily Bulletin
Friday, October 23, 2020
Day: 6
· END OF THE QUARTER REPORT CARDS
The First Quarter will end on Friday, October 30th. First Quarter Report cards will be emailed no later than Friday, November 6, 2020 . Please be reminded that in order to access your son's report card you will need his Central Catholic Student ID Number which is located on the back of his Central Catholic ID Card. This number is the password. The email subject line will be your son's current grade and Quarter 1 Report Card. If the email does not show up in your inbox, please check your spam or junk email box.
· Attendance Reminders
As a reminder, all attendance policies and procedures are in full effect and there has been no change. If your son will be absent, even if he will be working remotely, please call the absentee hotline (412 621-1766) and leave a message with his name, the date and the reason for the absence. Per the handbook, saying things like "He won't be in today" or "He will be absent" without a reason will result in an unexcused absence. If he has an early dismissal or will be arriving late, he must check in at the welcome desk and turn in a note to Mrs. Horey in addition to a call to the absentee line. Failure to follow the procedures will result in disciplinary action.
· Bowling Sign Ups
SIGN UPS FOR THE 2020-2021 BOWLING SEASON ARE NOW IN PROGRESS. PLEASE CONTACT COACH DAMON GROSS VIA EMAIL OR PHONE IF INTERESTED. BOWLING IS MONDAY AND WEDNESDAY FROM 3:30 TO 5:30 AT NORTH VERSAILLES BOWLING ALLEY.
· Dignity & Respect - Background and Programming
As the Dignity and Respect program prepares for the future, we wanted to let you know of some of the things we have done in the past. FYI - the first quarter has been about "Adjustment". Being an extra-curricular activity, meeting around personal schedules has been a challenge. We are confident that we will be able to meet more frequently going forward. Any questions, please email mlucas@centralcatholichs.com
The Following all are part of The Dignity & Respect Campaign: In the fall of 2017, Central Catholic kicked off its first-ever Dignity & Respect Campaign. Alumni Maurice Lucas '89, Morris Turner '89, Jim Donahue '03, and Kyle Goldcamp '04 became certified trainers for the globally recognized program. The Dignity & Respect Campaign is a program that helps individuals and organizations reinforce their commitment to creating environments for ALL to work, live, learn, and play—with ALL of our differences. A dedicated group of students are chosen / volunteer for implementing programing for the campaign.
The Dignity & Respect Campaign has brought in numerous guest speakers over the past four years, including:
• Charlie Batch, former NFL quarterback and founder of the Best of the Batch Foundation
• Emiola Jay Oriola, founding Program Manager for the brand new Office of Interfaith Dialogue and Engagement at the University of Pittsburgh
• Former Steeler Edward Nelson • Sean McCaskill, Founder of McCaskill & Associates
• Rev. Cornell Jones, Group Violence Intervention Coordinator for Allegheny County Jails
• M-PowerHouse (Mr. Joel Gray of the Pittsburgh Pirates)
The Black Student Union The Black Student Union is a student organization that is devoted to fostering a campus dedicated to diversity and inclusion through educational, cultural and social activities. New members and ideas for programming are welcome.
B-Pep (Black Political Empowerment Project) Youth Summits For the past four years, Central Catholic has worked directly with B-PEP and the Greater Pittsburgh Coalition Against Violence to hold annual youth summits. These half-day summits encourage an open dialogue about issues of violence and crime that affect our communities. Students listened to guest speakers discuss cyber bullying, gun violence, domestic violence and dating violence, among other issues, and participated in small group discussions with their peers surrounding these topics. Facilitators provide students with techniques and resources for reporting and strategies to reduce violence.
HBCU Field Trips and Representation Each year, the Black Student Union takes students to the Historically Black College and University information fair at CCAC. Alumni Martell Covington (Howard), JD Williams (Hampton) and Morris Turner (Morehouse) visited Central in February 2020 to discuss their experiences at Historical Black Colleges and Universities. Information on HBCU's tuition, acceptance rates, graduation rates, majors, and rankings were available to interested students.
Diversity & Inclusion Training for Faculty and Staff
• Dignity & Respect training
• TAP Expert Educational Consortium ( 2020-2021 school year)
Alumni Group Martell Covington, Lloyd Cheatum, Covington Central Catholic has an ongoing relationship with a group of over 200 African American alumni who help to consult and guide our leadership and administration. Listening Sessions CCHS has held several listening sessions with alumni regarding the hair policy, and most recently regarding race. CCHS will continue to hold listening sessions.
· Lacrosse
The Central lacrosse program continues to grow with new players joining and a great coaching staff who have been working hard to increase the skill level of both inexperienced and experienced players. The voluntary workouts have been conducted for the past 7 weekends uninterrupted, and this coming Sunday the boys will have an opportunity to participate in the Pumpkin Classic at Seneca Valley and showcase their skills and teamwork and how they measure up against other WPIAL programs. In preparation and to continue the improvement in stick skills, the coaches will continue with Voluntary Workouts this coming Friday and Saturday because we can never be content.

The coaching staff continues to encourage new players to join the program - freshmen and upperclassmen - as no experience is necessary to join one of the fastest-growing WPIAL sports! Keep in mind lacrosse is a WPIAL Spring sport. Stop by and check out the workouts or contact Coach Anthony to find out more.

Practice Schedule:
Friday, October 23rd: 6:00-8:00PM
Saturday, October 24th: 1:00-3:00 pm

Parents/players/students: if you have any questions please reach out to Coach Anthony: aabbondanza@centralcatholichs.com
· Swim/Dive Team Sign Ups
Students interested in signing up for the Central Catholic Swim/Dive team can pick up a form from Mrs. Horey at the Welcome Desk. No prior swim team experience is necessary.
· Mother's Guild Fall Fundraiser
Do you own a business or know someone who owns a business that might be interested in an advertising opportunity? The annual Mothers' Guild Fashion Show is going virtual in November, which means we have great opportunities for highlighting businesses from the CCHS community. We are looking for monetary sponsors as well as donations for the goodie bags that will be delivered to ticket purchasers. Please email cc.mothers.guild@gmail.com for more information.
· Mothers' Guild Virtual Fall Fashion Show
Join us for the Mothers' Guild Virtual Fall Fashion Show - November 15, 2020.
SACP Essay Contest
Submissions for the 2020/2021 SACP essay contest are now being accepted. All students are eligible to participate, and two Central Catholic students will be chosen for submission to the official contest with cash prizes available. Please submit essays to Mr. Belardi by November 15th to be considered for the contest. This year's prompt: Why does the United States have a higher Coronavirus fatality rate than other countries? For more details visit: http://sacp.org/hs-science-essay-contest/
· Monthly Mother's Guild Meeting
The November Mothers' Guild meeting will be a planning meeting for the upcoming Fashion Show. The meeting will be offered both in-person and virtually on Wednesday, November 4th at 6:30pm. Please register here to attend: https://www.signupgenius.com/go/20F0D4FAFA722A4F58-november Questions? Please contact cc.mothers.guild@gmail.com
· Counseling News
Westinghouse Science Honors Institute- WSHI is planning to host their lecture series this year for high school juniors from Western Pennsylvania and the surrounding communities who demonstrate a strong interest in science and engineering and who are of high scholastic standing (free of charge). WSHI consists of 9 Saturday-morning virtual lectures, including a virtual trip to the Penn State Breazeale Nuclear Reactor. Students attend WSHI to gain insight into careers in engineering and science. They network with professionals in the "real world," and interact with students from different schools who also have the same abilities and interests. Registrations will be accepted through the week of October 19th (first lecture will be held October 24th). If interested, students should complete the release form and return to their counselor.
· CMU's "Project Ignite" is taking applicants
Project Ignite is a student-run outreach organization at Carnegie Mellon University offering an interdisciplinary project-based educational program for high school students in the greater Pittsburgh area. They provide a valuable opportunity for students to work in a team and gain hands-on experience planning and executing a project with funding for materials provided to each group. Apply using this link: https://projectignitecmu.org/
· College Visits
Seniors & Juniors the following colleges will have virtual visits at Central Catholic High School. Seniors need to sign-up for the visit in SCOIR. Juniors you can email Mrs. Ruggiero at kruggiero@centalcatholichs.com. If you are interested. The zoom link will be emailed to all registered students 1-2 days before the visits. If you have a class at the time of college visit, you must have permission from your teacher. All College visits will be in the College Counseling Office on the third floor unless otherwise indicated.
Wednesday, October 28th
9:30-9:55- Seton Hill University
10:00-10:25- Franklin & Marshall
10:30-10:55- Chatham University
11:00-11:25- Carlow University
11:30 -11:55- University of Alabama
1:00-1:25- Savannah College of Art and Design
1:30-1:55- University of Chicago
2:00-2:25- Louisiana State University
Wednesday, November 4th
9:30-9:25- Art Academy of Cincinnati
10:00-10:25- Carnegie Mellon University
11:00-11:25- Ohio Dominican University
11:30-11:55- Ohio University
1:00-1:25- Hobart William Smith College
"Make it a rule . . . never, if possible, to lie down at night without being able to say, 'I have made one human being at least a little wiser, a little happier or a little better this day." –Charles Knightly
Saint John the Baptist...pray for us, Live Jesus in our hearts...forever!
Have an announcement to include in the Daily Bulletin or weekly newsletter?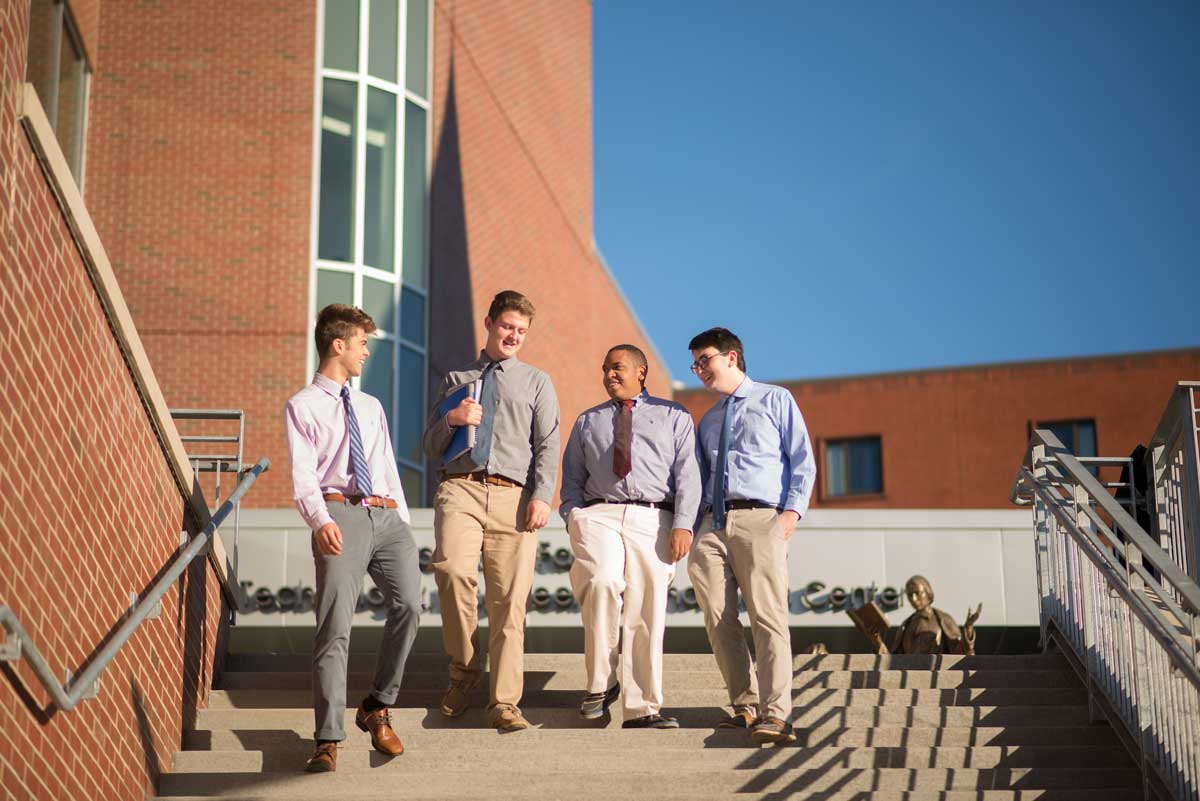 This Week at Central Catholic