Daily Bulletin
Thursday, April 15, 2021
Day: 3
· SENIOR CAP, GOWN AND TICKET DISTRIBUTION SENIOR CAP, GOWN AND TICKET DISTRIBUTION
Beginning the week of Monday, May 3, Senior cap and gowns and tickets for Baccalaureate Liturgy and Commencement Exercises will be distributed.
Distribution will be as follows:
Monday, May 3 and Tuesday, May 4 Last names A - K are to pick up their cap and gowns and tickets in the Academic Affairs Office (STEM Building) between the hours of 8:00 am until 2:45 pm.
Wednesday, May 5 and Thursday, May 6 Last names L - Z are to pick up their cap and gowns and tickets in the Academic Affairs Office (STEM Building) between the hours of 8:00 am until 2:45 pm.
Any questions, please contact Mrs. Corletti (412-208-3422 or bcorletti@centralcatholichs.com) in the Academic Affairs Office. If your son is on-line, the Academic Affairs Office will be open from 9:00 am – 2:00 pm for pick up. Please follow the above guidelines for distribution.
· Swim Team Pictures
If you ordered swim team photos, they are at the Welcome Desk and are ready for pick up.
· National Honor Society Junior Candidates
There will be a meeting on Tuesday, April 20 at 8:00 in BRC 1 to elect officers for next year. Attendance is mandatory. Please be prompt.
· END OF THE THIRD QUARTER & REPORT CARDS
The Third Quarter ends on Friday, March 26, 2021. Third Quarter Report cards will be emailed no later than Friday, April 9, 2021 due to the Easter Break. Please be reminded that in order to access your son's report card, you will need his Central Catholic Student ID Number which is located on the back of his Central Catholic ID Card. This number is the password. Please use only the digits not the letters prior to the number. The email subject line will be your son's current grade and Quarter 3 Report Card. If the email does not show up in your inbox, please check your spam or junk email box. If you have any questions, please contact Mrs. Beth Ann Corletti (bcorletti@centralcatholichs.com).
· Online Students Enrolled in AP courses
If you son is currently enrolled in an AP course and is fully on-line, please contact Mrs. Beth Corletti at 412-208-3422 or email bcorletti@centralcatholichs.com as soon as possible.
· Central FBLA and PA State Conference Results
Congratulations to the following individuals who placed in the Top 10 at the FBLA Virtual State Conference this year. Alex Pampena - 1st Place in Word Processing Jack Sabo - 1st Place in Introduction to PA FBLA Noah Hudson - 8th Place in Entrepreneurship Evan Moncheck - 9th Place in Supply Chain Management Amari Smith - 9th Place in Broadcast Journalism Alex and Jack qualify to continue competing at the National FBLA Virtual Conference in June. Central also had 16 members inducted into the National Business Honor Society and they will be given honor cords to wear at graduation. In addition to the competitive events, PA FBLA members elected new State officers. Jack Sabo was elected as PA FBLA Vice President at Large and will represent Central, as well as Western PA, for the school year 2021-22. Jack also received endorsement from PA members to run for National FBLA Eastern Region Vice President at the National FBLA Conference. Good Luck Jack! Congratulations to all that participated in FBLA this year!
· Viking Lacrosse
The season is underway and the teams are doing well. Coach Anthony Abbondanza and his coaching staff have greatly improved the program at both the JV and Varsity level. There are 55 players. Varsity is 2-2 with wins over Baldwin and North Hills. The schedule is full and there are games this week on Friday at Chartiers Valley and at North Allegheny next Wednesday. Our next home game is next Saturday, April 17th, against North Catholic.
· The Central Catholic - Oakland Catholic Masque proudly presents "Guys & Dolls!"
Join us for our 2021 Spring Musical "Guys & Dolls!" Widely considered to be one of the greatest musical comedies of all time, "Guys & Dolls" is set in 1950s NYC, featuring a cast of characters that includes gansters, showgirls, and missionaries, and some of Broadway's most memorable music. Due to Covid-19 restrictions, we will be offering a professionally-broadcasted livestream of each performance: Friday, April 16 at 7:30PM, Saturday, April 17 at 7:30PM, and Sunday, April 18 at 2:30PM. Reserve your livestream access now at www.showtix4u.com/events/Masque.
· Dress Code and Hair Policy
Covid precautions have presented a long list of challenges that we would not experience in a normal school year. We made significant changes to the dress code this year to allow for students to be comfortable, and also allow staff to focus on a plethora of other concerns. By our standards, we have been laxed during the winter months as the building was cold due to open windows. As we get closer and closer to normal we are enforcing our dress code. All students will be expected to be in the Covid-19 dress code posted in the Student/Parent Handbook beginning this Monday, March 15th. No hoodies or sweatshirts will be allowed. All students must have a collared shirt tucked in with a belt. We will continue to NOT wear ties for the remainder of the school year. We have also been laxed on the hair policy as well. We know that hair may not be a quick fix so all students will be expected to be in compliance upon our return from Easter Break on Tuesday, April 6th. Please reference pages 24 and 25 of the Student/Parent Handbook for a detailed description of the dress code and hair policy. Thank you for your cooperation as we get closer and closer to normalcy.
· Attendance Reminders
If your son will be late, needs an early dismissal or will be absent for the full day, be sure to call the absentee hotline (412 621-1766) and leave a message with his name, grade and the reason. Per the handbook, saying things like "He won't be in today" or "He will be working remotely" will result in an unexcused absence. Late arrivals and early dismissals require students to check in/out at the welcome desk and provide a note to Mrs. Horey upon arrival at school. Students are not permitted to call themselves off nor should they be contacting their teachers asking to be excused for any reason. If there are any questions, please contact Mrs. Horey.
· The Latest Edition of The Viking is Now Online!
The latest edition of The Viking is now available online at www.cchsviking.com.
· Morning Mass
Eucharist is celebrated Monday and Friday morning at 7 in the Christian Brothers chapel. All are welcome to participate.
· Information Needed for PowerSchool
If you have recently moved, changed phone numbers (including cell numbers), email addresses, parish, and school district, please contact Mrs. Beth Corletti at bcorletti@centralcatholichs.com or 412-208-3422 of these changes. This information needs to be updated in parent portal portion of PowerSchool in order to receive all up-to date correspondence regarding reports cards, inclement weather, COVID and normal day to day correspondence from Central. Our website posts up-to-date information daily regarding important announcements.
· Transcript Request Deadlines
As we approach the first college application deadlines, it is important that you meet the college counseling office's transcript request deadlines in order to ensure enough time for us to process your requests. *Please note that in non-peak times, transcripts will be sent within 72 hours of when we receive your transcript request form, as long as all recommendation letters have been submitted.
Quote of the Day:
" Either we're pulling together or we're pulling apart. There's really no in between." –Kobi Yamada
Saint John the Baptist...pray for us, Live Jesus in our hearts...forever!
Have an announcement to include in the Daily Bulletin or weekly newsletter?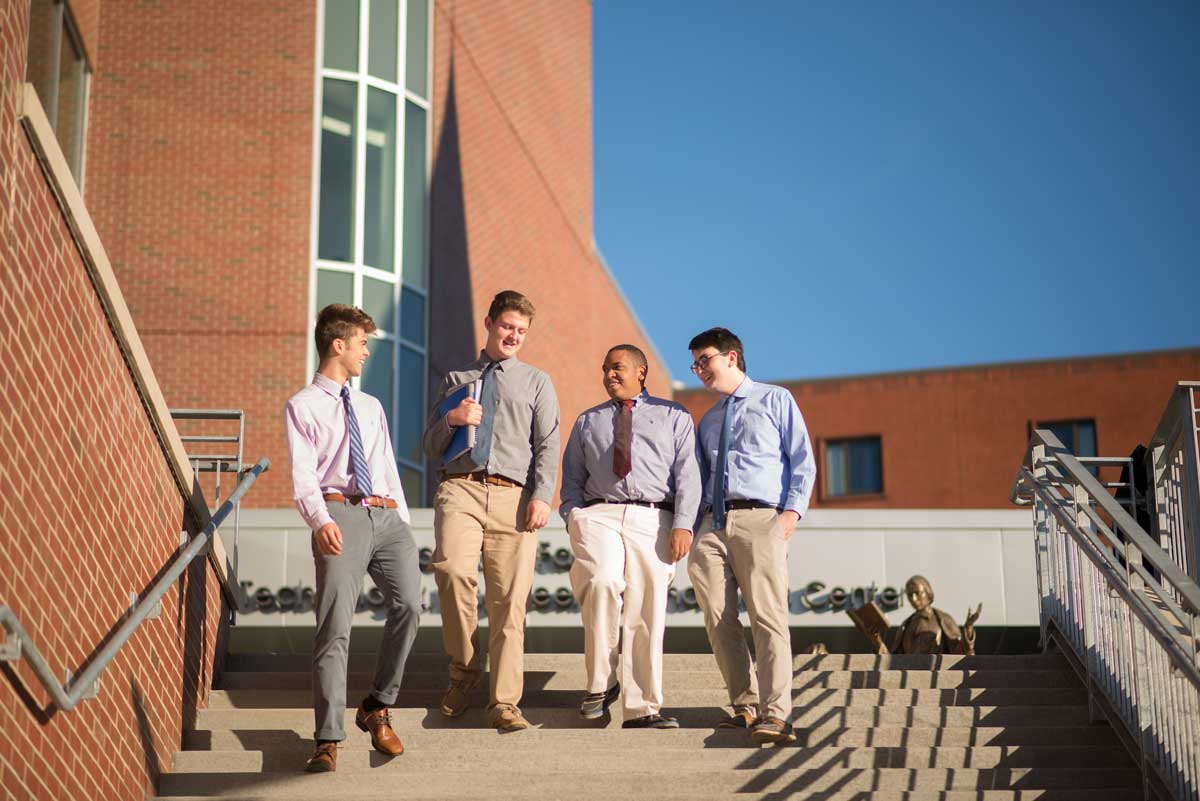 This Week at Central Catholic