Daily Bulletin
October 18, 2019
Day: 5
· Campus Store
Regular Hours - when school is open
Monday - Friday 7:15 to 8:00 a.m.
Monday, Wednesday, Friday - 11:30 a.m. to 3:30 p.m.
Tuesday and Thursday 2:30 to 3:00 p.m.
Extra Hours:
Thursday, Nov 7, 6:45 p.m. to end of intermission of Masque performance.
Friday, Saturday Nov. 8, 9 6:15 to end of intermission of Masque performance.
Sunday, November 10, 11:00 a.m. to 2:30 p.m.
You can also e-mail us for an appointment if the listed times do not work. bookstore@centralcatholichs.com
New items are also on our on-line store:
http://viking-book-store.mybigcommerce.com/
You can shop 24 hours a day 7 days a week. New items are being added as they arrive.
· Track - start date change
Due to the recently awarded off days, track conditioning will begin Thursday October 24th at 3:30. You must have a physical or recertification turned in before you can begin.
· Seniors get accepted into colleges at the HBCU fair.
On October 10th, the BSU took 17 students to the Historically Black College and University information fair at CCAC. Dressed to impress with transcripts in hand, 11 young men received on the spot admission to at least two universities. Best news of the day was senior James Hill qualifying for a full tution scholarship with $16,500 to Delaware State University.
· WRESTLING SEASON BEGINS 18 NOVEMBER
Are you looking for a winter sport? Would like to get in the best shape of your life? Are you looking for a challenge? If you answered 'yes' to any or all of these questions, then there may be a spot for you on the Central Catholic Wrestling Team. All weight classes are welcome. Contact Coach Ferguson at iferguson@centralcatholichs.com if you are interested and want more information, or talk to one of the current CCHS Wrestlers.
· SACP Essay Contest
Submissions are being accepted for the SACP Essay Contest at this time. Submit essays to Mr. Belardi or Mr. Allen by October 31st. For information about guidelines see: http://sacp.org/wp-content/uploads/2019/09/HS-Essay-Application-2019-20.pdf
· Enjoy Books for Sale in Office A
Enjoy Books, with hundreds of saving coupons for dining, fast food, retail, recreation and entertainment are now available for purchase in Office A. Price is $30 per book and proceeds benefit the retired Sisters of Charity. Checks can also be made out to Sisters of Charity. The Sisters thank you for your support and will continue to pray for you in their daily prayer.
· Raffle Ticket Thank You/Personal Holiday Reminder
Thank you to all the students, parents, faculty, and staff for buying and selling raffle tickets to benefit the Student Activities Fund. The grand prize drawing is on October 9th during homeroom on VNN.
Students who sold 8 or 12 raffle tickets will receive a letter in homeroom about their personal holidays. Letters must be signed off on by a parent or guardian. If signed letters are not returned to the school by the deadline, students will forfeit their personal holidays.
· PSATs
PSAT's will be held on Wednesday 30 October. Instead of a delayed start or activity periods, we will begin at regular time(7:56am) and students will be dismissed by 11:30. The school districts have been notified so be sure to check with your district in regards to bussing.
· News from the Academic Affairs Office
SENIOR PARENT REMINDERS:
Thank you to all that have responded to the initial letter regarding your son's name on his high school diploma. If you have not yet responded, it is very important that you do so as soon as possible. We are rapidly approaching the deadline to submit the diploma names for printing of diplomas. Second Notices were mailed on Friday, October 4th. Deadline for this information is Wednesday, October 16th. Please contact Mrs. Beth Corletti (bcorletti@centralcatholichs.com) with the necessary information. If we do not receive the information very soon, we will need to utilize the information that is in the PowerSchool database.
The diploma is an official document and only one is produced. We also have limited space on the diploma so we suggest that you use your son's first name, middle name or initial, last name and suffix as appropriate.
Thank you!
Also, all Seniors have been measured for caps and gowns. Each senior should have received a 'Congratulations' Packet at the assembly held on Tuesday, October 8, 2019. This packet includes information for ordering graduation announcements and other graduation items.
You are under no obligation to place an order. Please check with your Senior to be sure he received a packet. If he was absent the day of the assembly, please have him see Mrs. Corletti in the Academic Affairs Office to pick up a packet. An order can be turned into Mrs. Corletti in the Academic Affairs Office NO LATER than October 22, 2019. You can also order these items on-line.
If your Senior has not ordered his class ring, you can send an email to Nancy at Jostens (bernie.shaughnessy.office@jostens.com) or call her at 412-276-5365 and she can get the ring information to you. Class Ring orders should be turned into Mr. Macurak NO LATER than October 22, 2019 (class rings cannot be ordered on-line).
AP EXAM FEES:
Thank you to everyone who has paid their AP Exam fees. For those who have not, please get your payment in as soon as possible. Payment was due on Friday, October 4th. We need to order the exams very soon and do not want to incur any late fees.
· Winter Parking Permits
The parking portal for winter permits will be open on Wednesday, October 23rd and will remain open until the end of the school day on Wednesday, November 6th. The winter permit season will begin on Monday, November 18th. As a reminder, first priority will be given to students that reside in school districts that do not transport students to Central Catholic. Second priority will be given to seniors, then juniors, that participate in an in-season sport or activity. Please reference page 41 of the Student/Parent Handbook for a complete list of parking rules.
· PPS Replacement Connect Cards
Orders for replacement Connect Cards can only be placed on the 20th of each month. If a card is lost prior to that date the student must wait until the 20th for the replacement to be requested. It takes 5 business days for the card to be issued by PPS. A replacement card is $5 and must be paid to Mrs. Horey at the Welcome Desk. Any questions, please call Mrs. Horey at 412 208-3423.
· Lacrosse Tournament
Fall Tournament Season: The Central lacrosse team will be participating in the Pumpkin Classic at Seneca Valley on Sunday, October 27th and the Lax on 5th Ave tournament hosted here at Central Catholic on November 23-24th. Both tournaments are 10v10 format to replicate exactly what we will be doing in the spring. There is a limited number of players allowed on the roster for the tournaments, so players must confirm their registration on our team ASAP. Email Coach Dykla (dykla.jordan@gmail.com) to register. Please include grad year and position in your email.
· Track season begins
Conditioning for track & Field will begin October 22nd at 3:30. Workouts will be on Tuesday and Thursday until thanksgiving break. After break, another day will be added. Athletes must turn in a physical or recertification (if they have done a sport this fall) before they can begin. Forms can found on the school website. Another track workshop will be held on Wednesday October 23rd during the morning activity blocks if students have any questions. Students can see Mr. Lucas, Mr. Stone, Mr. Hanrahan, Mr. Sweeney or Mr. Heid for more information.
· Ping Pong Club
The ping pong club will be meeting Tuesdays and Thursdays after school in the gym lobby. New members always welcome, no experience necessary.
· Yearbooks are on sale now!
Purchase early to save! Yearbooks are currently $60 until the end of September. Visit yearbookforever.com to buy now!
· Get involved with Dignity & Respect on Wednesdays
Students - look out for the Dignity & Respect activity block meetings on Wednesday mornings starting this month. First meeting will be the 25th block A. This campaign has become an important part of the Central Catholic lifestyle, and would be a great way to learn about and improve you cultural awareness (remember, culture is not just race...it is economic, religious, geographic, etc.) Contact Maurice Lucas (mlucas@centralcatholichs.com) or Morris Turner (mturner@centralcatholichs.com) for more information.
· Attendance Hotline
If you need to call your son in absent, late or for an early dismissal, please call the absentee hotline at 412 621-1766 and leave his name, the date, and the reason. Also, if they are arriving late or have an early dismissal, they must turn a note in to Mrs. Horey at the Welcome Desk upon arrival. Please keep in mind, saying "He won't be in today", or " He's not coming to school, " will result in an unexcused absence. If you have any questions, please call Mrs. Horey at 412 208-3423 or refer to the student/parent handbook, pages 18-20.
· Early Dismissal Procedures
If your son has an early dismissal, he must turn in a note to Mrs. Horey in the Welcome Center upon his arrival in the morning. A call must also be made to the absentee hotline (412 621-1766) as a follow up. Without a note, students must be signed out by a parent or guardian. Students are NOT permitted to leave the campus without signing out with Mrs. Horey. For the safety and well being of our students, this procedure must be followed. Any questions, please contact Mrs. Horey at 412 208-3423.
· Hiring Lifeguards
The Wilmerding Community Center (formerly the Wilmerding YMCA) is hiring certified lifeguards and swim instructors. If interested, please contact Kelly Maxwell at kmaxwellcouncil@gmail.com or Peter McGinty at pmcgintywcc@gmail.com Or call 412-520-SWIM
· College Visits
Friday October 18, 2019
The Catholic University of America Period 1 8:08 – 848
Washington in St. Louis Period 2 8:52 - 1:12
Northeastern Period 3 9:36 – 10:16
Georgetown University Period 5 11:04 –11:44
Wednesday October 23, 2019
Shippensburg University Period 1 9:56 - 10:24
Ohio Wesley University Period 11:00 – 11:28
University of Toledo Period 5 12: 04 - 12:32
Point Park University Period 8 2:12 -2:40
Thursday October 24, 2019
Washington and Lee University Period 1 8:08 - 8:45
Emanuel College Period 3 9:36 -10:16
Lehigh University Period 7 12:32 – 1:12
The Ohio State University Period 8 1:16 -1:56
University of Miami Period 9 2:00 – 2:40

Seniors & Juniors the following colleges will be visiting Central Catholic High School. Seniors need to sign-up for the visit in Naviance. Juniors should sign up by emailing Mrs. Ruggiero at kruggiero@centralcatholichs.com if you have a class at the time of college visit, you must have permission from your teacher. All College visits will be in the College Counseling Office on the second floor unless otherwise indicated.

October Service Opportunities:
October 24th- 3:30 pm to 5 pm - Shadyside Boys and Girls Club
October 26th- 8 am to 12:30 pm - Red Door
October 26th- 4 pm - 7 pm - PA Lutheran Center for the Blind
October 31st- 3:30 pm to 5 pm - Shadyside Boys and Girls Club

Quote of Day:
"Rather fail with honor than succeed by fraud." –Sophocles

Saint John Baptiste de la Salle...pray for us. Live Jesus in our hearts... forever!
Have an announcement to include in the Daily Bulletin or weekly newsletter?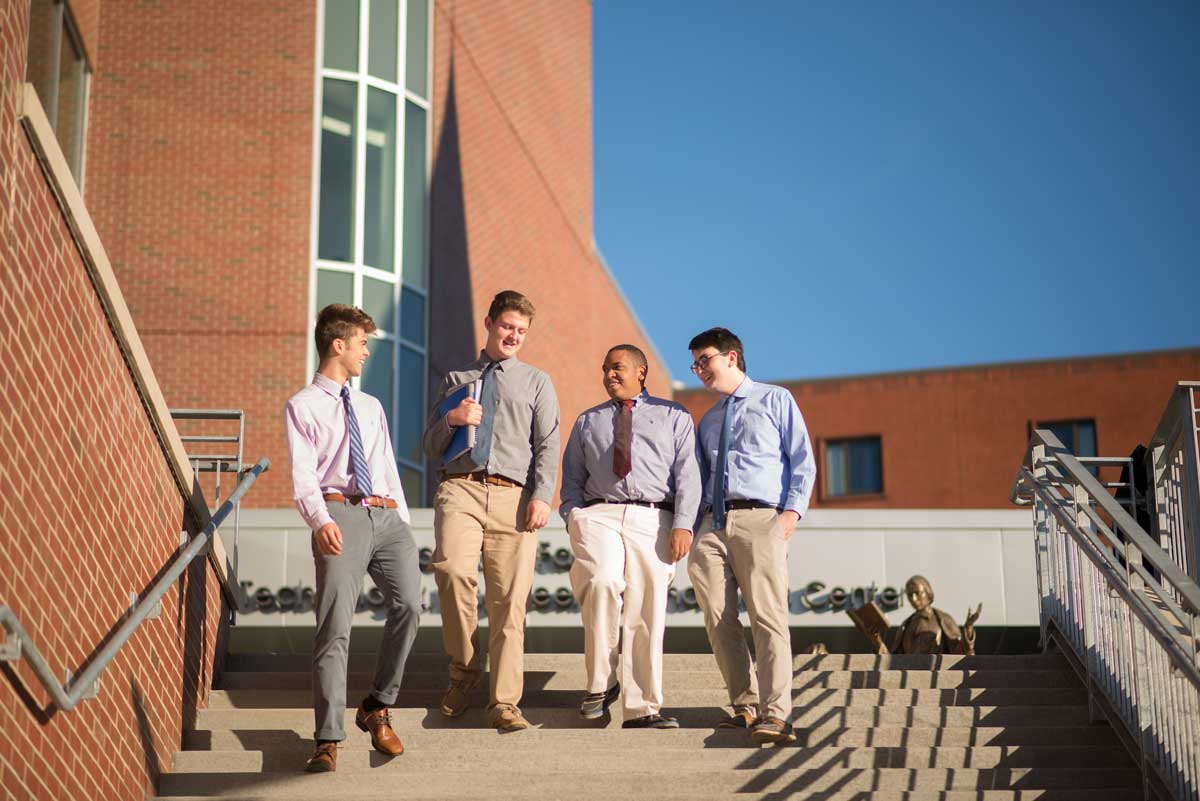 This Week at Central Catholic