Daily Bulletin
Monday, December 5, 2022
Day: 1
· Christmas Cookies Exchange for Staff and Faculty
Calling all bakers and non-bakers! Please help make Christmas merry and bright for our staff and faculty again this year with our annual Cookie exchange! Mothers' Guild Hospitality Committee received more than 2000 cookies last year! Cookies can be home-made or bought. Our Mothers' Guild boxed the cookies for our 110 staff and faculty members. Cookies can be dropped off in Mrs. Chu's office (Office A) on Tuesday December13th. Please click on the link if you would like to participate. We really appreciate all your help in making this event a success! https://www.signupgenius.com/go/8050A44AFA82DA4FB6-staff
· Holiday Paint Night
Come Paint with us on December 16th from 6-8pm! Art Club is hosting a holiday paint night fundraiser. We will walk you through a painting step by step to create your festive masterpiece. Cost is $25 per person. Please make sure to Register for the event ! If you have any question please email Ms. K.
· Ski & Snowboard Club
The Ski and Snowboard Club will have its first organizational meeting of the school year immediately after dismissal on Thursday, December 8th in Room 304 to go over details for our first Club Trip of the Winter season to Seven Springs. Beginners and newcomers are always welcome!
· Environmental Club Fundraiser
The Environmental Club members made biodegradable bird feeders from pinecones, peanut butter, and bird seed. They will be selling them for $2 each. They would make great gifts too. Please email Mrs. Neiderlander if you are interested in buying some. The club members will deliver them to you.
· Christmas Break
Our Christmas break will begin with an early dismissal on Tuesday 20 December. Students will be dismissed around 11am. Please be sure to check with your home school district regarding transportation on that day. Students will be off and the school offices will be closed beginning Tuesday afternoon. Break will be Wednesday 21 December 2022 through Tuesday 3 January 2023 with classes resuming on Wednesday 4 January 2023. We wish all of our students and their families a very Merry Christmas holiday and a happy and safe New Year.
· SACP Essay Contest
Submissions are now being accepted for the annual SACP Essay Contest. This year's prompt:
If you were a policy advisor to the President of the United States, what recommendations would you make concerning alternative energy sources? Be sure to include scientific background regarding your suggestions. Cite all references in MLA format. 2500 character limit.
Essays are due to Dr. Belardi by December 20th and two Central Catholic essays will be chosen to be submitted to the SACP where cash prizes are possible.
· Inclement Weather Policy
With the winter months and the possibility of inclement weather approaching, please be aware of our policy regarding school cancellations and delays. We will broadcast any announcement regarding a cancellation or delay on the three local networks (KDKA, WTAE and WPXI). There will also be an automated call sent out to our families. If your home district has called a cancellation or delay and Central Catholic has not, you will follow your home school district. For example, if Woodland Hills calls a delay, and Central Catholic does not, families in Woodland Hills would follow their district delay. If you have any questions, please contact Mrs. Horey.
· Swim Team Booster Fee
The booster fee for all members of the Central Catholic swim team is $150. Please have this paid by check made out to Central Catholic Swim Team. This fee will help provide for team meals and snacks on meet days as well as the banquet and team gifts. The fee can be turned in to Mrs. Horey at the Welcome Desk. If you have any questions, please contact Coach Merci McCarthy: mercidays@aol.com.
· Ultimate Frisbee
After a thrilling Fall season, the Ultimate Frisbee Team has begun preparing for Winter League 2023! This indoor season will start in January in go through the end of February. We are looking for New Players to join the Team! Anyone interested in trying a new sport that is fast paced and competitive is encouraged to join us for practices on Mondays and Wednesdays after school during November and December. Please report to Room 304 and bring a change of clothes suitable for the weather, running shoes, and a water bottle. Contact Coach Thomas gthomas@centralcatholichs.com with questions.
· Part-time Student Job Opportunity
Pino's Contemporary Italian Restaurant & Wine Bar 6738 Reynolds St, Pittsburgh, PA 15206 www.chefpino.com
Hiring Dining Room Assistants
Chef-Owner Joseph Mico (a.k.a. Pino) is a Central Catholic Graduate--Class of '80
Applicant must be at least 16 years old
Applicant must be available at least one weekend night (Friday or Saturday)
Hourly plus tips, must be available to work evenings (Tuesday through Saturday)
No late nights
Flexible schedules
Free shift meal included Please call 412-812-5506 if you are interested to speak to Jen Mico.
· Attendance Policies
Please keep in mind not all reasons for absences, tardy arrivals or early dismissals are excused, even with a note. Examples include, but are not limited to: learner's permit or driver's exam, family vacations/travel, cancellation of classes, personal reasons and family emergencies. Sleeping in, missing the bus, traffic, car trouble, or having free periods at the start of the day are not excused even with a note . All excuses are subject to review by the administration. Refer to pages 20-22 in the student/parent handbook for full details.
· Email Excuses
Due to multiple issues last year, we are no longer accepting email excuses for absences, late arrivals or early dismissals. If your son will be out, coming in late or needs an early dismissal, please follow the procedure as detailed in the student/parent handbook, pages 20-22. If you have questions or concerns, please contact Mrs. Horey.
· Absence/Excuse Reminder
According to the Pennsylvania Department of Education, absences are considered unlawful until the school receives a written excuse. If 3 calendar days pass after the absence with no excuse, the absence is permanently considered unlawful. Central Catholic will not alter a student's absence after that 3 day period. The Administration reserves the right to judge the validity of excuses. Parental excuses must contain the following information:
• Printed full name and homeroom of student
• Date(s) of absence(s) or early dismissal
• Time to be dismissed (early dismissal)
• Reason for the absence or early dismissal
• Signature of the custodial parent/guardian
• Phone number where a parent/guardian can be reached
· Early Dismissal/Late Arrival procedures
Students who are arriving late or have an early dismissal will need to provide a written note from a parent or guardian to Mrs. Horey at the Welcome Desk upon their arrival to school. For an early dismissal, the note must contain the students full name, homeroom, the time they are to be dismissed and the reason for the dismissal. For a healthcare appointment, the student must turn in a note from the provider on the next school day for the early dismissal to be excused. Email excuses for late arrivals or early dismissals will not be accepted. Tardy arrivals/early dismissals due to travel or family plans are not excused. Please refer to the handbook, pages 20-22 for more information.
· Student College Visits Absences
For students going on a college visit, a parent or guardian must call the absentee hotline the day of the anticipated visit to report off. Students must also bring a note from the college admissions office or admissions representative to have the visit excused. Emails or written notes from parents will not be accepted as a valid excuse.
· Address Changes and Phone Updates
If you move or change your phone number over the summer, please reach out to Mrs. Corletti with the new information. Also, if you change school districts, you will need to register your son with your new district. If you have any questions regarding transportation, pleases contact Mrs. Horey.
Quote of the Day:
"I can accept failure. Everyone fails at something. But I can't accept not trying." –Michael Jordan
Saint John the Baptist...pray for us, Live Jesus in our hearts...forever!
Have an announcement to include in the Daily Bulletin or weekly newsletter?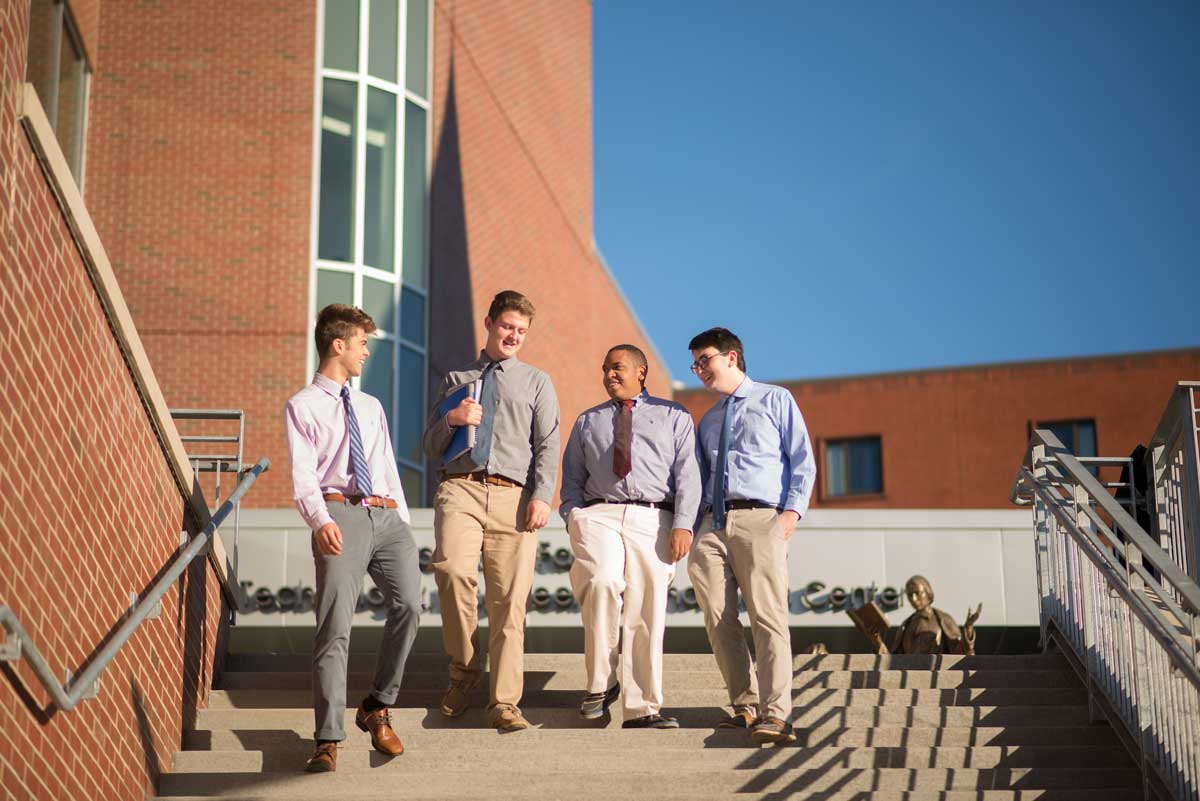 This Week at Central Catholic