Daily Bulletin
Tuesday, January 19, 2020
Day: 1
· Attendance Reminders
All attendance policies and procedures are still in effect under the hybrid model. If your son is scheduled to attend and is unable due to sickness or an appointment, you must call the absentee hotline (412 621-1766) and leave a message with his name, grade and the reason for his absence. Students are not permitted to call themselves in absent; a parent or guardian must call. Per the handbook, saying things like "He won't be in today" or "He is going to work remotely" without a reason will result in an unexcused absence. If you have questions, regarding the attendance policies, please refer to the handbook, pages 18-20 or contact Mrs. Horey.
· Track & Field
Conditioning workouts for the Spring Track & Field season will be on Tuesdays and Thursdays after school from 3-430 pm. There will be additional days added in as we move forward. If you have competed in a sport this school year, you need to turn in a recertification form before you can start. If you have not competed in a sport this year, you need to get the full physical form completed. Both can be found on the school's website under "athletics". See Mr. Lucas, Sweeney, Heid, Maltbaek or Stone for more information. You can also email Mr. Lucas at mlucas@centralcatholichs.com for information.
· SAT Prep Spring 2021
Are you looking to improve your SAT score? Mr. O'Connor and Mr. Sweeney are offering an 8 week SAT Prep Course on Saturday mornings this spring. The course will begin on March 6 and will conclude on May 1, with April 3 off for Easter. Dates and Times: The course will take place on Saturday mornings starting on March 6 and ending on May 1 March 6 and April 24 - 9 a.m. - 1 p.m. All other dates: 9 a.m. - 11:30 a.m. Registration: https://centralcatholichighschool.formstack.com/forms/2021_spring_sat_prep_workshop
· Mothers' Guild Yoga Class
Please join us for a (virtual) yoga class on Wednesday, February 3rd at 6:30pm! Please register here ( https://www.signupgenius.com/go/20f0d4fafa722a4f58-february) to receive the Zoom link which will be sent the day of the event. This takes the place of the previously scheduled monthly Mothers' Guild meeting. All CCHS families, staff, and friends are welcome to attend so freely share the registration link! This class will be appropriate for a variety of fitness levels. Please wear comfortable clothing which allows you to move freely. CCHS parent Nancy Gatti of Wallingford Studio in Shadyside will lead us through an amazing yoga class. Please join us even if you have never tried yoga before! Email cc.mothers.guild@gmail.com with any questions.
· New Masque Audition Dates
Join the Oakland Catholic-Central Catholic Masque as a member of the cast or crew in its spring musical, Guys & Dolls. This is a tale of 1930s New York City - a world of Gangsters, Gamblers, Showgirls, and Missionaries. Whether you're a seasoned musical theatre veteran or new to the stage, there's a place for you! Our audition dates have been postponed until after midterms, so you have even more time to prepare. Girls may choose to audition on January 19th or 20th, the guys will audition on the 21st, and call-backs will be on January 22. Email Dr. Mackey at mmackey@centralcatholichs.com to be added to the Masque email list and receive the OneDrive link for audition music and recordings.
· Sophomore applications to The Brother David S. Baginski FSC Scholars Program
Brother David S. Baginski Scholars Program Applications Attention Sophomores: If you have excellent grades, intellectual curiosity, interest in social-justice issues and a willingness to participate in a multitude of enrichment activities and trips as a group, please consider applying to the Br. David S. Baginski, FSC Scholars Program. The program has been a tradition at Central since 2002 and prepares students to go onto some of the nation's top research and liberal arts colleges.
Below are the preliminary requirements for admission:
• Have taken a minimum of 3 Advanced Placement (AP) or Honors courses.
• One of these must be a writing-intensive course such as AP Human Geography, Exploring Literature and Writing Honors I or Honors II, AP European History, or Honors World History.
• Demonstrate an ability to work at a minimum GPA level of 3.5.
• Be enrolled or plan to enroll in 3 years of the same foreign language or demonstrate satisfactory completion of an AP language class. There will be an information meeting with the Directors on Thursday, January 21st at 5:00 pm (via Zoom). All who are considering applying should attend the meeting. The application deadline is Monday, February 19th (these will be made available online on January 21st). If you or your parents have questions, please see or e-mail Mr. Allen (jallen@centralcatholichs.com) or Dr. Costa (pcosta@centralcatholichs.com).
· Morning Mass
Eucharist is celebrated Monday and Friday morning at 7 in the Christian Brothers chapel. All are welcome to participate.
· Harlequin Literary Magazine
The Harlequin, Central Catholic's literary and arts magazine, is now accepting submissions for the next issue. If you have stories, poems, essays, or artwork you'd like to share with the Central community, send your submissions to centralharlequin@gmail.com. Contact Mr. Rooney for more details.
· Information Needed for PowerSchool
If you have recently moved, changed phone numbers (including cell numbers), email addresses, parish, and school district, please contact Mrs. Beth Corletti at bcorletti@centralcatholichs.com or 412-208-3422 of these changes. This information needs to be updated in parent portal portion of PowerSchool in order to receive all up-to date correspondence regarding reports cards, inclement weather, COVID and normal day to day correspondence from Central. Our website posts up-to-date information daily regarding important announcements.
· Dress Code
Effective Monday, November 2nd, students will be required to wear uniform shoes and pants. Shorts and tennis shoes will no longer be acceptable. Students are not required to wear a tie while masks are required. Students must wear a shirt with a collar, and polo or golf shirts are still acceptable. Hoodies, jackets, sweatshirts, fleeces, even those that have Central Catholic on them, are NOT allowed. Students must wear a sweater if they are cold. Please reference page 24 of the Student/Parent Handbook for a full explanation of the Dress Code.
· Transcript Request Deadlines
As we approach the first college application deadlines, it is important that you meet the college counseling office's transcript request deadlines in order to ensure enough time for us to process your requests. *Please note that in non-peak times, transcripts will be sent within 72 hours of when we receive your transcript request form, as long as all recommendation letters have been submitted.
· CMU's "Project Ignite" is taking applicants
Project Ignite is a student-run outreach organization at Carnegie Mellon University offering an interdisciplinary project-based educational program for high school students in the greater Pittsburgh area. They provide a valuable opportunity for students to work in a team and gain hands-on experience planning and executing a project with funding for materials provided to each group. Apply using this link: https://projectignitecmu.org/
· Scholarship Opportunity - Good Orthodontic Smile Scholarship
This scholarship is available to any senior who is graduating in 2021 and is a past or present patient of Good Orthodontics. Please submit a 500 word or less essay in response to, how my GOOD smile has influenced my life. Essay deadline is February 15, 2021 and can be submitted to any of the Good Orthodontics offices.
Quote of the Day:
"You can't build a reputation on what you're going to do." –Henry Ford
Saint John the Baptist...pray for us, Live Jesus in our hearts...forever!
Have an announcement to include in the Daily Bulletin or weekly newsletter?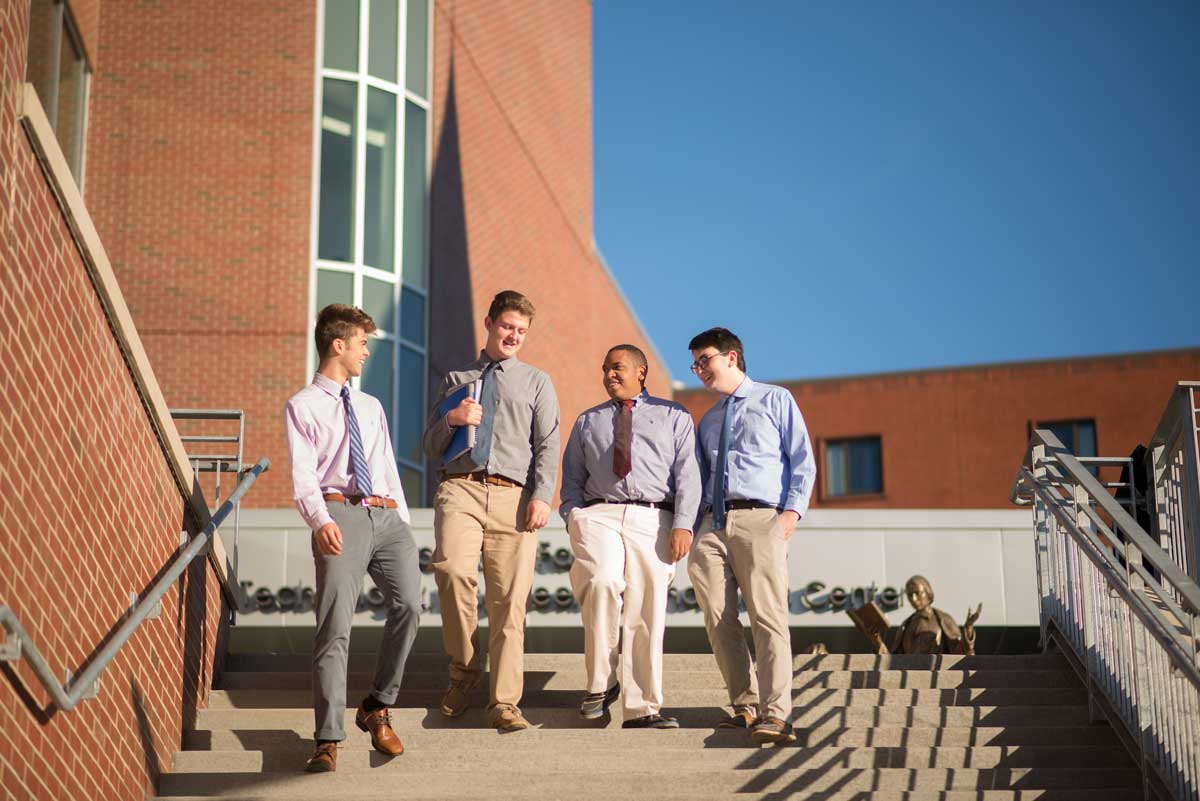 This Week at Central Catholic