Daily Bulletin
Monday, September 20, 2021
Day: 4
· SENIOR ANNOUNCEMENTS & CLASS RING ORDERING INFORMATION (JOSTENS COMMENCEMENT CATALOG):
After a discussion with our Jostens Representative, David Purificato, a decision was made to order commencement announcements and class rings on-line. Orders will not be collected at Central. Attached is the link to the information (catalog) that Jostens has provided for Central Catholic. You are under no obligation to place an order.
If you are interested in ordering a class ring, please contact Mr. Purificato (412) 276-5365. He will be able to assist you.
All commencement announcement orders must be place by Friday, September 24, 2021. Caps and Gowns are not to be ordered through this on-line link. Information Sheets from all 178 Seniors is being collected during homeroom periods to be given to Jostens for the ordering of Caps and Gowns. If your student was absent from homeroom, he is to contact Mrs. Corletti in the STEM Building upon his return to school.
CAPS and GOWNS, as well as Seniors' YEARBOOKS, ARE PAID THROUGH YOUR SENIOR TUITION FEE.
Please see the attached PDF for more information.
· Senior Diploma Names
In a few short weeks we will be submitting information to Jostens for the printing of diplomas for the Class of 2022. Letters were mailed to all senior parents on Friday, September 10th regarding the publication of their student's name on his diploma. There are a limited number of characters that can be used for the diploma names. Since it is an official document, we highly recommend using first name, middle initial or full middle name, last name and any appropriate suffix. If there is an issue with the number of available characters that can be used for and individual's name, we will contact you. If you have not yet received this letter, please contact or email Mrs. Beth Ann Corletti at: 412-208-3422; bcorletti@centralcatholichs.com. All information must be received by FRIDAY, SEPTEMBER 24, 2021. It should also be noted that a diploma cannot be replaced or reproduced if lost or damaged. Thank you.
· Absentee Hotline Messages
Once you have called the absentee hotline to report your son as absent or tardy please do not call back and ask when his attendance will be adjusted. Due to transportation and busing issues, there are days when over 100 students are arriving late and it takes some time to get the attendance adjusted for all the students. Multiple calls to the hotline only slow down the process. If there is an issue please email Mrs. Horey and it will be investigated.
· Sword Fighting!
The Historical European Martial Arts (HEMA) Club will have its first informational meeting on Tuesday, September 21 right after school in Room 410. The meeting will take less than an hour and will focus on defining HEMA and setting up best times and dates for future training sessions.
· Lacrosse Fall "Voluntary Workouts" continue this weekend
Saturday 9/18 @ Central - 11:00am (arrive 10:40am) to 1:00pm
Sunday 9/19 @ Schenley Oval - 8:00am (arrive 7:40am) to 9:30am -
Navy/neutral colored practice shorts - Practice pinnie - Neutral/Central colored undershirt - White or black socks - Bring your own water
· The Viking Newspaper
Any student interested in writing or taking photos for The Viking Newspaper should see Ms. Budacki in room 409 or Editor, senior Joe Stern. The first edition deadline is September 27.
· Games Club Meeting - Rescheduled
The First Games Club meeting of the year has been rescheduled for Tuesday September 21st, after school in Room 403. Any interested student may attend this organizational meeting.
· Masque Fall Show Auditions
This fall, the Central Catholic - Oakland Catholic Masque is presenting "Bringing Back Broadway" - a celebration of musical theatre. The entire theatre community has suffered greatly during the ongoing Covid-19 pandemic, and so we are coming together to celebrate our own theatre community, camaraderie, and unity. There are opportunities for students to perform as singers, dancers, and actors, and as members of the ensemble, as featured soloists, or as stage crew for this spectacular performance event. Dr. Mackey is hosting an optional after-school audition preparation session on Thursday, September 16, from 3-4:30PM. Auditions will be held on Wednesday, September 22, from 3-6PM. Register for an audition or stage crew at https://www.surveymonkey.com/r/V359R8C or contact Dr. Mackey for more information at mmackey@centralcatholichs.com.
· Sell Your Student Activities Fundraiser Tickets Online!
Tickets can be purchased online at centralcatholichs.com/10kfundraiser! Just make sure to tell people to fill in your name in the appropriate box when purchasing the ticket. The drawing will take place on October 12 at 8:00 a.m. Questions? Contact Mrs. Kelly Maxwell at 412-208-3400 Ext 3483 or kmaxwell@centralcatholichs.com.
· Early dismissals and Late arrivals
Students who arrive late or have an early dismissal must provide a note to Mrs. Horey at the Welcome desk upon their arrival at school. The note must have the students name, reason for the tardy or early dismissal and the time they are to be dismissed (if applicable). If no valid reason is given (i.e. "he's arriving late today" or "he needs an early dismissal" ) will result in an unexcused absence. Parents also need to call the absentee hotline to report it. Please refer to the student/parent handbook pages 20-22 for more information or contact Mrs. Horey if you have questions.
· Attendance Procedures
If your son will be arriving late or will need and early dismissal, please call the absentee hotline before 9am and leave a message with his name, grade and the reason for the late arrival or early dismissal. Students must also give a note to Mrs. Horey at the Welcome Desk upon arrival. If he will be absent for the entire day, the same policy applies. Per the handbook, saying things like "He will be late today" or "He will not be in school" will result in an unexcused absence. The attendance policies can be found on pages 20-22 of the handbook. If you have any questions, please contact Mrs. Horey.
· CCHS Wrestling
The Viking Wrestling Team will begin pre-season strength and conditioning beginning on Tuesday 7 September at 3pm. The pre-season workouts will be held on Tuesdays and Thursdays from 3-4:30. Meet in the Wrestling Room. If you are interested in wrestling you can contact one of the senior captains - Jaden Brown or Chris Aluise or contact Coach Ferguson at iferguson@centralcatholichs.com .
· Westinghouse Science Honors Institute
The Westinghouse Science Honors Institute (WSHI) lecture series is free and open to all juniors who have demonstrated a strong interest in science and engineering. WSHI lecture series will be held remotely this year and includes a virtual trip to the Penn State Breazeale Nuclear Reactor. Each school has been limited to sending only 20 students (first come, first served).
To learn about the program, visit the Westinghouse WSHI website https://www.westinghousenuclear.com/about/community-and-education/science-honors-institute If you are interested, you must inform your counselor before Thursday September 30th so that your name can be added to the nomination list and an application can be completed in your name. Feel free to reach out to your counselor with any questions.
· Junior/Senior Homecoming Dance
This year's Junior/Senior Homecoming dance will be held on Saturday, October 9, 2021 from 7:30 p.m. until 11:00 p.m in the Union Ballroom at Duquesne University. The cost per couple is $125. Single tickets may be purchased for $75. The ticket cost includes a buffet dinner, dessert, dancing, and all-night beverage bars. Homecoming is a formal event. Gentlemen should wear a suit or sport coat, and young ladies should wear a formal dress. Homecoming tickets will go on sale via Ms. Sirockman out of Office A. Ticket sales open on MONDAY, September 20, 2021. Tickets will be sold from 7:30-7:56 a.m. and from 2:40-3 p.m. only. Tickets will NOT be on sale during the school day. Please note that tickets will be sold on a first come, first serve basis. The total number of tickets will be dictated by Duquesne and local mandates. Please plan on buying your tickets early. Monday, September 27 is the LAST day to purchase tickets for the dance. Each student who wishes to purchase a ticket must have their Homecoming Event Contract completed in full before he will be able to purchase a ticket. See Ms. Sirockman in z204 with specific questions.
· College Visits
Seniors & Juniors, the following colleges will be visiting Central Catholic High School. Juniors & Seniors need to sign-up for the visit in SCOIR. If you have a class at the time of college visit, you must have permission from your teacher. All College visits will be in the College Resource Room on the second floor unless otherwise indicated.
Monday September 20, 2021
University of Delaware - Period 1
Denison University - Period 3
California University of PA - Period 6
Thursday September 23, 2021
University of Notre Dame - Period 1
Chatham University - Period 3
Friday September 24, 2021
Allegheny College - Period 1
Monday September 27, 2021
Seton Hill University- Period 3
The College Wooster - Period 6
Tuesday September 28, 2021
University of Maryland (College Park) - Period 1
Bryant University - Period 3
Ohio University Main Campus - Period 6
Art Academy of Cincinnati - Period 8
Wednesday September 29, 2021
University of Akron - Period 1
University of Toledo - Period 6
Dickinson College - Period 8
Thursday September 30, 2021
Baldwin Wallace University - Period 1
John Carroll University - Period 4
University of Pittsburgh (Main)- Period 6
SUNY at Binghamton - Period 8
Friday October 1, 2021
Embry-Riddle Aeronautical University - Period 3
Quote of the Day:
"The difference between a successful person and others in not a lack of strength, not a lack of knowledge, but rather a lack of will." –Vince Lombardi
Saint John the Baptist...pray for us, Live Jesus in our hearts...forever!
Have an announcement to include in the Daily Bulletin or weekly newsletter?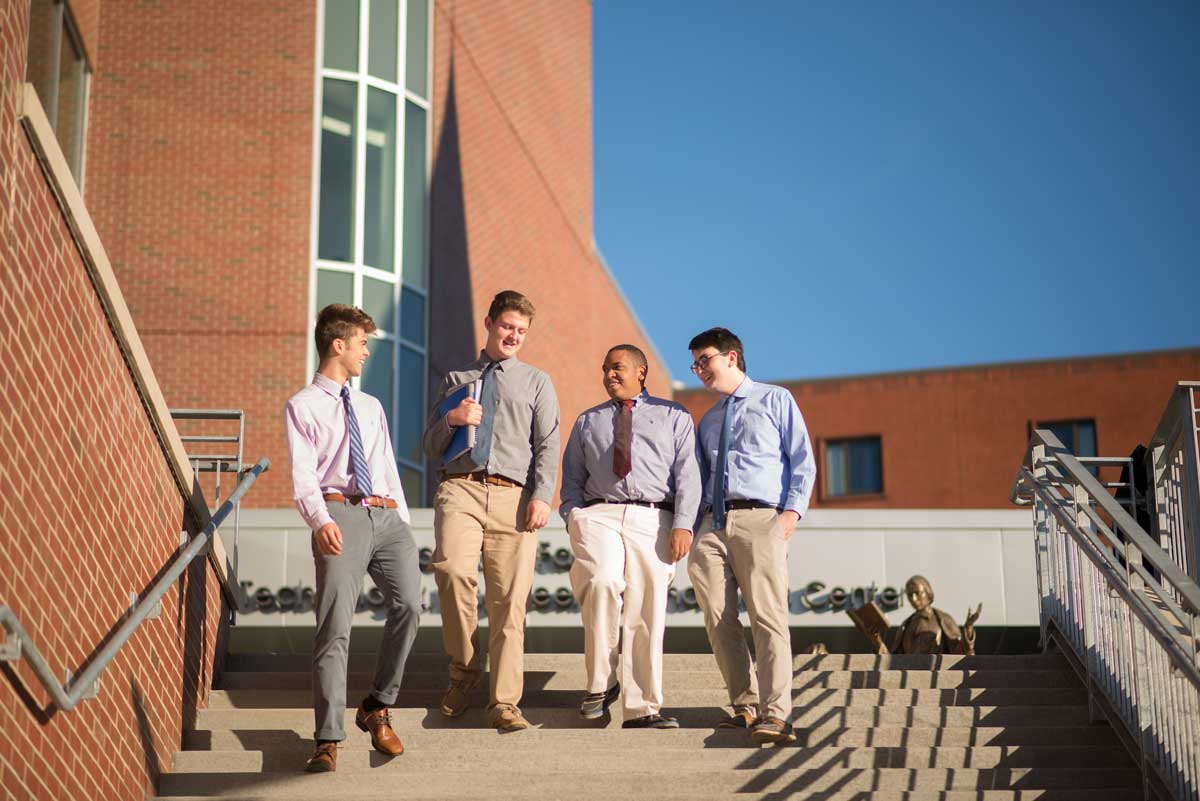 This Week at Central Catholic