Daily Bulletin
February 20, 2020
Day: 2
· Campus Store
New Store Location is Room 109
Regular Hours - when school is open
Monday - Friday 7:15 to 8:00 a.m.
Monday, Wednesday, Friday - 11:30 a.m. to 3:30 p.m.
Tuesday and Thursday 2:30 to 3:00 p.m.
You can also e-mail us for an appointment if the listed times do not work. bookstore@centralcatholichs.com or text Terri at 412-320-3022
The Viking Bookstore will be open during the Parent meetings on Thursday, February 20, for your shopping convenience.
· Viking Online Store:
You can shop 24/7 at the Viking On-Line Store. The same items from the campus store are available on line. You can have your order shipped or picked up to save cost of postage. Either way, you can conveniently shop leisurely from home and purchase the same gear offered on campus. Go to http://viking-book-store.mybigcommerce.com/
· IMPORTANT COMMENCEMENT INFORMATION
The start time for the 2020 Commencement Ceremony at Soldiers and Sailors Memorial Hall has been changed to 11:00 am on Sunday, May 24, 2020.
· Ultimate Frisbee Spring League
The Ultimate Frisbee Team will host an introductory meeting for all new players interested in joining the program for the upcoming Spring season on Monday, March 2nd at 2:45 PM in Room 304. All beginners are welcome. No prior playing experience is required. Please contact Coach Thomas or Coach Erlandson with any questions.
· Track information table
Information for the upcoming track season will be available in the cafeteria on Wednesday, February 19th between 11a and 2p. This information is important if you intend on competing this spring. A physical or recertification is required before you can start. The first day of practice is March 2nd. Practice will be from 3p until @5p. Practice is held at CMU. Please see Mr. Stone, Mr. Sweeney, Mr. Heid, or Mr. Lucas for the information if you can not get it that day. Conditioning continues every Tuesday, Wednesday, and Thursday after school for the remainder of February.
· Volleyball
Volleyball season is coming up fast! Anyone interested in playing Volleyball this spring should contact Mr. Schramm. No prior experience is necessary.
· Spring Parking Permits
The parking portal will be open on Thursday, February 6th, and will remain open until the end of the school day on Thursday, February 20th. The spring permit season will begin on Monday, March 2nd. As a reminder, first priority will be given to those students who reside in districts that do not provide transportation to Central Catholic. Second priority will be given to those students that participate in an activity or in-season sport for Central Catholic. Late applications will not be accepted.
· Check In Reminder
With the start of the second semester, we still have students who are not checking it at the Welcome Desk when they arrive late to school. Per the handbook, they are required to do so and must present a note or excuse for their late arrival. Without a note, the tardy will be marked as unexcused. For more details , please refer to the student/parent handbook, pages 18-20. If you have any questions, please call Mrs. Horey at 412 208-3423 or email: shorey@centralcatholichs.com
· Dignity and Respect & Black Student Union
Activity blocks for the Dignity & Respect student champions and the Black Student Union have been scheduled for the second semester. Everyone always wants to know what these groups do, now is the time to find out. We have a lot of programming planned, but we need the involvement of students to make it work. We encourage everyone that wants to make a difference to sign up.
· Frosh/Sophomore Winter Formal
The Winter Formal will be held on Saturday, February 22nd from 7:00 p.m. until 10:00 p.m. and will take place at the Sokol Club, located in the Southside. The cost per couple is $40. The ticket cost includes the room rental, security, all night beverages, a light dinner and all night dancing with a DJ. The light dinner includes: chicken tenders, Italian sandwiches, cheese/pepperoni and crackers, veggie trays and assorted cookies. Winter Formal tickets will go on sale via Ms. Sirockman in Office A on a first come, first serve basis beginning January 29 from 7:30-7:56 am and from 2:40-2:55 pm. Tickets will NOT be on sale during the school day. Wednesday, February 12 will be the last available day to purchase a ticket. Students must have a completed contract and $40 to purchase a ticket.
· The Latest Edition of The Viking is Now Online!
The second quarter edition of The Viking is now available online at: www.cchsviking.com. Students who are interested in writing or taking photos are encouraged to sign up for The Viking Newspaper meetings during Block A on Wednesday mornings on Flextime or see Ms. Budacki in room 409 with questions.
· Track and Field Indoor Season Approaching
Conditioning for the upcoming indoor/outdoor season will be on Tuesday, Wednesday and Thursday at 315p (up from 330p) until the end of February. A physical or recertification must be submitted before beginning.
https://pateamstores.com/collections/central-catholic-track-field
· Required Demographic Updates
The Biographical and Medical Update form for the 2019-2020 school year is now available on PowerSchool! The Bio-Update allows parents to update demographics and contact information in school records. It must be completed every year. Full participation is required to ensure proper delivery of all electronic correspondence, which will replace paper communication sent home during the course of each school year. You will use the PowerSchool parent portal to access the update form. After signing in to the parent portal, look for link in the lower left-hand corner of your home screen that says Biographical and Medical Update form 2019-2020. Please be sure to complete all asterisked fields and click submit.
If you are unable to access the Bio-Update form, please contact Mr. Kevin Sweeney, Director of Information Technology (ksweeney@centralcatholichs.com).
If you need help creating or signing in to your PowerSchool parent account, please contact either Mrs. Stephanie Shanahan, Director of Academic Technology (sshanahan@centralcatholichs.com) or Mrs. Beth Ann Corletti, Administrative Assistant for Academic Affairs (bcorletti@centralcatholichs.com).
Your cooperation is greatly appreciated.
· Enjoy Books for Sale in Office A
Enjoy Books, with hundreds of saving coupons for dining, fast food, retail, recreation and entertainment are now available for purchase in Office A. Price is $30 per book and proceeds benefit the retired Sisters of Charity. Checks can also be made out to Sisters of Charity. The Sisters thank you for your support and will continue to pray for you in their daily prayer.
· PPS Replacement Connect Cards
Orders for replacement Connect Cards can only be placed on the 20th of each month. If a card is lost prior to that date the student must wait until the 20th for the replacement to be requested. It takes 5 business days for the card to be issued by PPS. A replacement card is $5 and must be paid to Mrs. Horey at the Welcome Desk. Any questions, please call Mrs. Horey at 412 208-3423.
· Attendance Hotline Reminders
When calling in to the absentee hotline, please be sure to leave the date you are calling. If your message does not include the date your son will be absent/late/leaving early, it may result in his attendance being recorded incorrectly. Also, per the handbook, the message must include the reason he will be absent/late/leaving early. If the message doesn't state the reason, it will be recorded as unexcused. And as always, for late arrivals and early dismissals, students must turn in an excuse to Mrs. Horey at the Welcome Desk upon arrival. If you have any questions, please contact Mrs. Horey at 412 208-3423 or refer to pages 18-20 of the handbook.
· Early Dismissal Procedures
If your son has an early dismissal, he must turn in a note to Mrs. Horey in the Welcome Center upon his arrival in the morning. A call must also be made to the absentee hotline (412 621-1766) as a follow up. Without a note, students must be signed out by a parent or guardian. Students are NOT permitted to leave the campus without signing out with Mrs. Horey. For the safety and well being of our students, this procedure must be followed. Any questions, please contact Mrs. Horey at 412 208-3423.
February Service Opportunities
February 6th - Shadyside Boys and Girls Club 3:30PM-5PM
February 8th - Red Door 8AM-12:30PM
February 13th - Shadyside Boys and Girls Club 3:30PM-5PM
February 20th - Shadyside Boys and Girls Club 3:30PM-5PM
February 22nd - Red Door 8AM-12:30PM
February 22nd - PA Luthern Center for the Blind 4PM-7PM
February 27th - Shadyside Boys and Girls Club 3:30PM-5PM
Quote of the Day:
"You will rise by lifting others." –Robert G. Ingersoll
Saint John the Bapstist...pray for us, Live Jesus in our hearts...forever!
Have an announcement to include in the Daily Bulletin or weekly newsletter?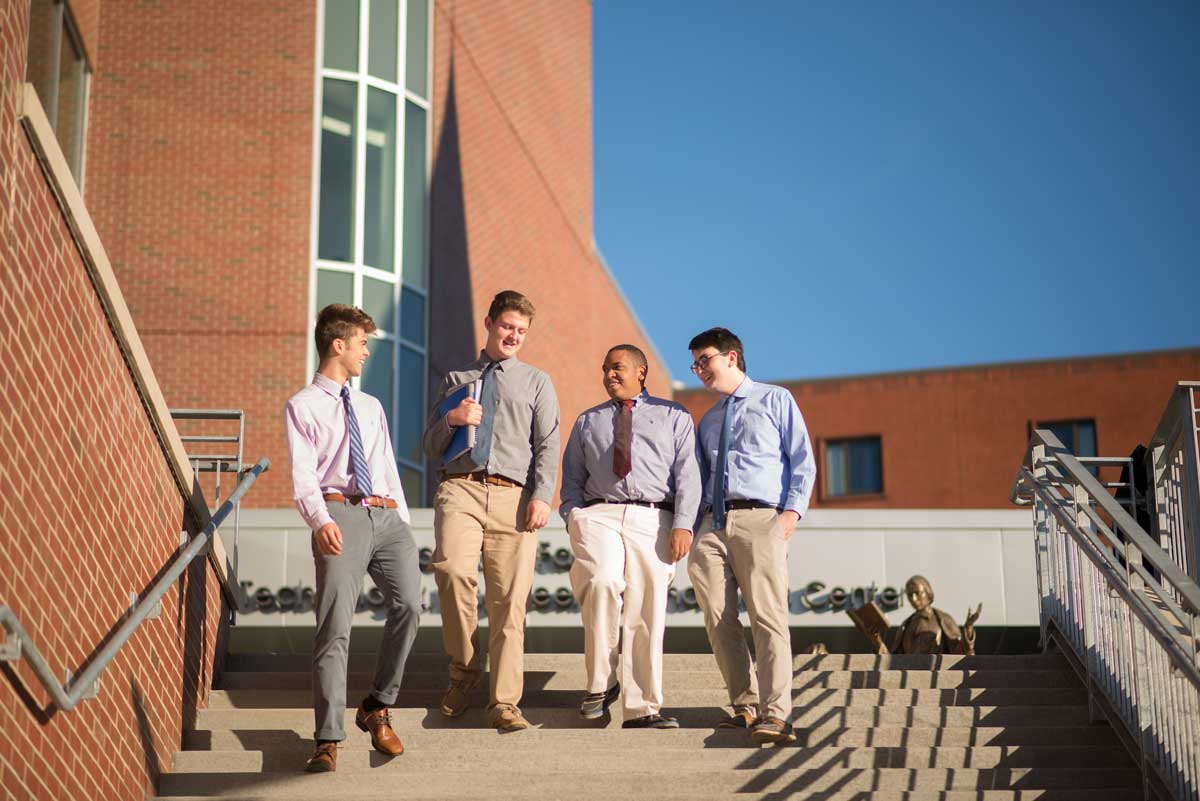 This Week at Central Catholic