Clifford E. Brown Library
An inviting, state-of-the-art facility, the Clifford E. Brown Library is designed to foster an engaging and interactive educational experience for Central Catholic students.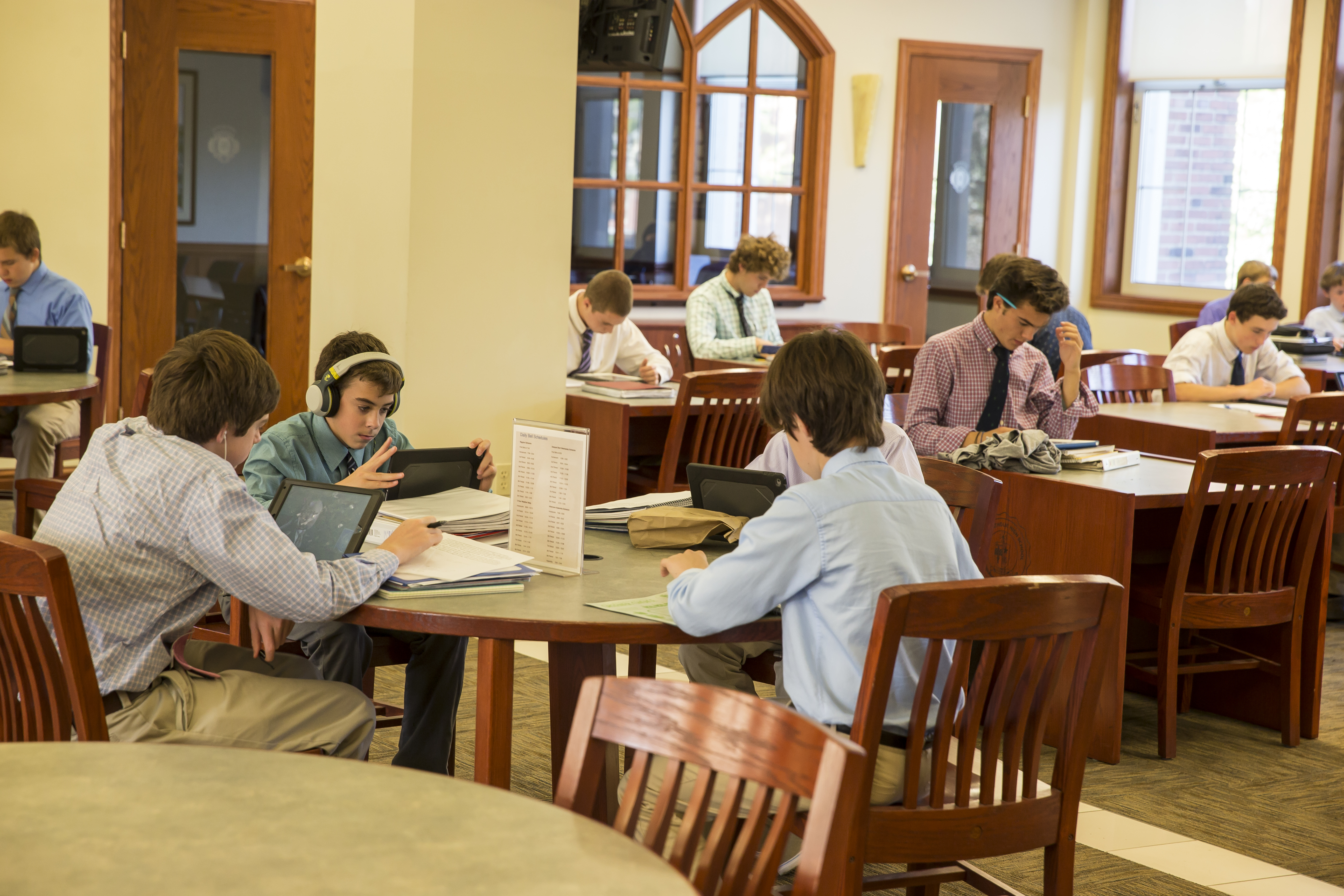 The recent renovation of the library enhances student learning by offering study areas and comfortable seating for informal research and periodical review. Computer stations adjacent to the custom-made circulation desk offer students the use of technology in their pursuit of academic achievement. A newly equipped, sound proof television studio allows students to develop skills in audio-visual techniques by producing all school programs and announcements. Energy efficient windows, air-conditioning, and the recent addition of the LaSalle Seminar Room complement the renovated space.
Hours
The Clifford E. Brown Library is open each school day from 7:30 a.m. to 3:00 p.m. Any changes in the schedule will be posted on the door.
Holdings
The Clifford E. Brown Library contains more than 12,000 books and over 100 audiovisual titles. It receives 20 magazines and two newspapers.
Library Policies
Circulation
Reference books may be checked out on an overnight basis; they are due back the next school day before homeroom. All other books circulate for two weeks. Students may also check out DVDs from the Library collection. Students should present their ID at the desk when they wish to check something out. All materials may be renewed.
Reserve Books
Teachers may place books on reserve for class use. At the discretion of the teacher, some reserve books circulate overnight.
Lost Materials
Reminders notices will be issued for any overdue Library materials. Students are responsible for the cost of any lost materials.
Printer
Students are permitted to use Library's printer/copier. There is no charge.
Conduct
Since the library is meant for quiet study, students may not converse or talk about schoolwork. If a student needs help with schoolwork, he should go to another area of the school.
Students may not use cell phones, chew gum, eat, or drink in the library. Coats and book bags are not to be brought in to the library. If coming to the library during ninth period, students should leave their coats and book bags in their lockers. Since all school regulations are in effect, students must be in dress code at all times.
When ready to leave, students should push in their chairs, throw away any paper, and put back all newspapers and magazines. Any books not checked out should be given to the librarian.
When using the Library computers, students must abide by the school technology policies at all times. Students are not to play games or otherwise misuse the computers and Internet resources. Internet searches should be confined to academic topics.
Resources