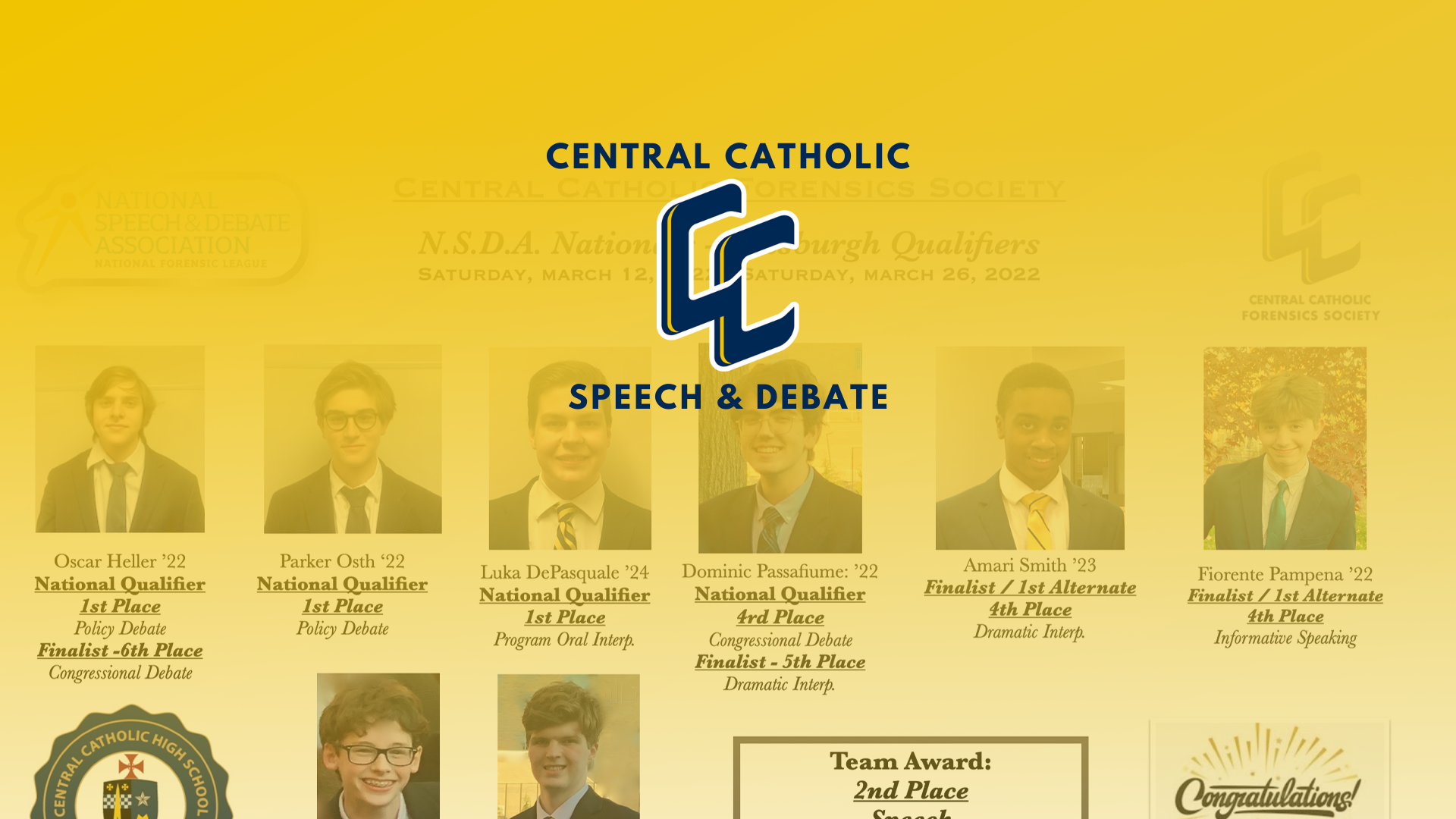 2022 CCHS Forensics Society: NSDA National Qualifiers
On March 12th & March 26th, the Central Catholic Forensics Society (CCFS) competed in the NSDA Nationals / Pittsburgh District Qualifiers. The team put some nice finishing touches on what has truly been an outstanding speech and debate season!
Central had eight district final round competitors, with four students qualifying to attend NSDA Nationals June 12-17 in Louisville, KY. Two additional students are first alternates for the NSDA national tournament. As a group, Central Catholic claimed 2nd place in the Speech Team Sweepstakes.
Congratulations to the following CCFS individual competitors:
Oscar Heller '22 - 1st Place-National Qualifier - (Policy Debate) -and- 6th Place / Finalist - (Congressional Debate)
Parker Osth '22 - 1st Place-National Qualifier - (Policy Debate)
Luka DePasquale '24 - 1st Place-National Qualifier - (Program Oral Interpretation)
Dominic Passafiume '22 - 4th Place-National Qualifier - (Congressional Debate) -and- 5th Place / Finalist - (Dramatic Performance)
Amari Smith '23 - 4th Place / First Alternate - (Dramatic Performance)
Fiorente Pampena '22 - 4th Place/ First Alternate - (Informative Speaking)
Matthew Evans '25 - 4th Place - (Program Oral Interpretation)
Declan Reilly '22 - 6th Place - (International Extemp. Speaking)