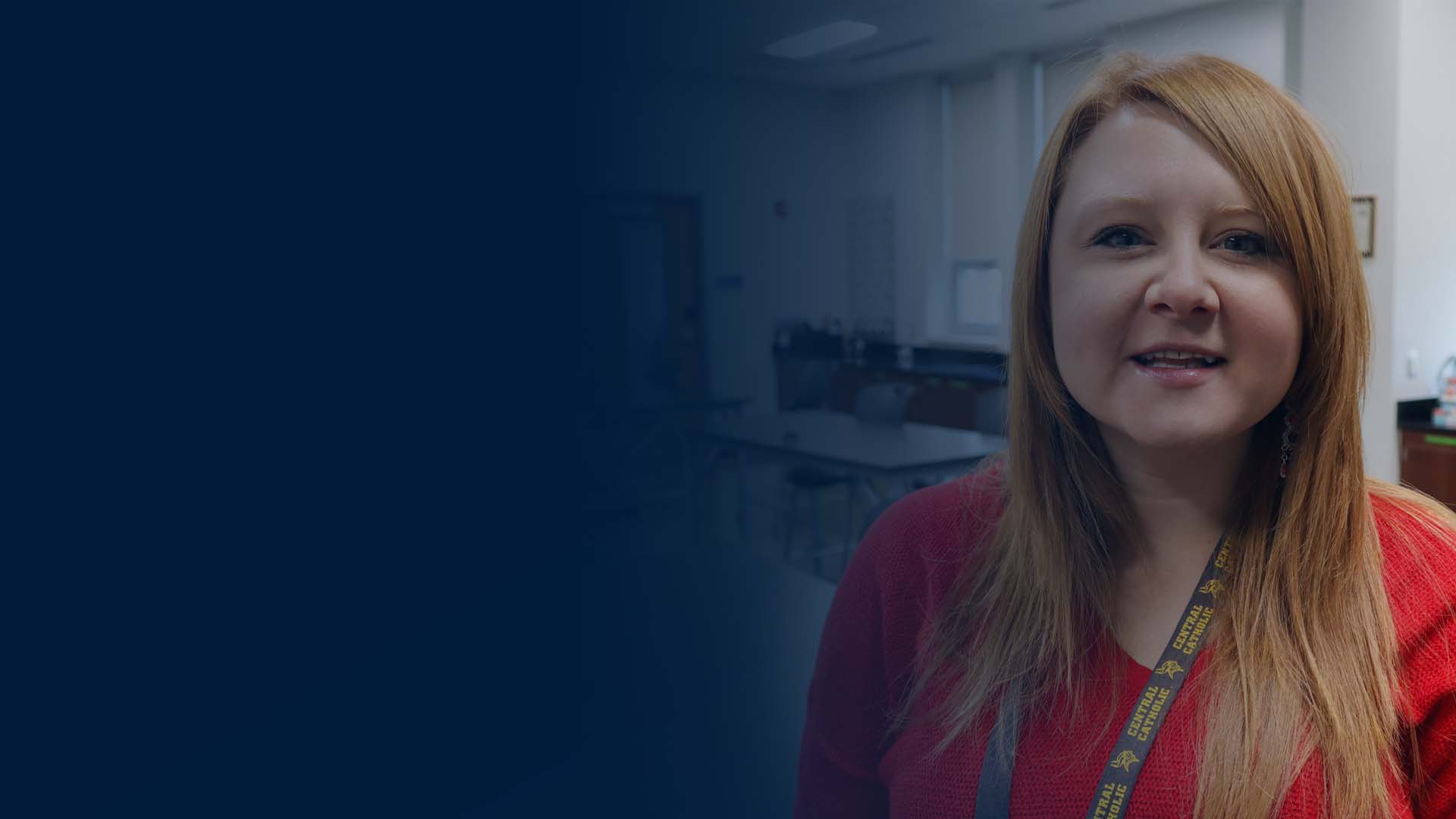 Faculty Spotlight: Meet Mrs. Cassie Sirockman-Bell
Learn about Mrs. Cassie Sirockman-Bell's beginnings at Central Catholic, and the many ways she engages her students in and outside of the classroom.
What is your approach to teaching?
My courses are filled with hands-on labs in the biology classes and real-life scenario math problems in advanced algebra. My courses can be challenging, but I try to maintain a fun and inviting atmosphere. I have been accidentally called "Mom" by many students. They know I am here for them if they need it! Homework is assigned every night, whether it may be a few math problems, a current event, or finishing a lab report. I want my students to fall in love with math and science. No matter their career path, math or science WILL play a role in some shape or form.
Describe any hands-on opportunities that you incorporate into your lessons.
In my biology courses, my students are up and moving every day! My favorite lab of the year is done with the Freshman Biology courses. In the metabolism unit, students learn about enzymes and the substrates they work on. In this lab, students try to make Jell-O with freshly squeezed pineapple juice, fresh pineapple chunks, canned pineapple, and fresh boiled pineapple juice. Pineapples contain an enzyme known as Bromelain that digests proteins. They quickly find out that Jell-O cannot gel in the presence of this enzyme unless it is denatured!
In the Quadratics unit in Advanced Algebra 2, we play the game Angry Birds. Students will use a set of problems (or pieces of problems) to graph and see if their particular bird will hit the pigs on the graph it is a fun way to explain this concept and is relatable to the students –get ready, boys, this is next week!
In my environmental course, I work hard to work with local schools and places to change the curriculum to make it more hands-on. Additionally, I strive to take the students to 3-4 places each year. We just spent the morning at River Rescue on a boat learning about the careers, as well as exploring the rivers through experimentation.
What is your history with Central Catholic?
Where do I start? My love for Central began on "Take Your Daughter to Work Day" in the 4th grade. I spent the day watching my Dad (Harry Sirockman) teach math and computer science, as well as many of the seasoned faculty, teach their classes. I wanted to be a teacher until High School. At that point, I was learning advanced science courses and fell in love with the idea of working in an operating room. I spent my college years studying biology and then attended the UPMC School of Cardiovascular Perfusion. During this time, I could not shake the desire to teach. I went back to graduate school to earn a Master of Education degree and never looked back.
I student taught under Mr. Krotec and was hired the next school year as a long-term substitute in both Chemistry (Mrs. Graffia) and Advanced Algebra 2 (Mr. Walker). I spent the next year teaching Biology, AP Biology, and Bioinformatics at Oakland Catholic, but my desire to return to Central was strong. I was hired full-time in Biology the following year here at Central – it would permanently be a "Take Your Daughter to Work Day!" Within the next few years, I was asked to take on the Algebra 2 courses.
Why did you want to teach at Central?
The community, the people, and the students were why I wanted to teach at Central. I watched a community help others when they needed it most, rejoice in each other's triumphs and help those in need. I have always wanted to be a part of a place like Central. Central is special. I wanted to give back to the community that helped mold me into the person that I am.
What do you like most about teaching here?
Many co-workers have become friends and a second family. I look forward to working each day and spending time with them. Mr. Retenauer is my best friend at school. Sean and Devin Crummie treat me like a little sister. I would be lost without Dr. Belardi and Mrs. Ball's jokes. Mr. Stone proctors the dances like a boss. Mr. Roche is my cafeteria proctoring idol. I could go on all day naming each person!
Additionally, I love my students. Every single one keeps me on my toes and shares personal triumphs in both academics and activities. I enjoy nothing more than seeing them after they graduate. I rejoice when I hear graduates have chosen a career focusing on biology, sustainability, the sciences, or math. I love the smile on each one's faces light up when they tell me about the courses they are studying, and it is especially wonderful to hear when graduates already know so much more than their peers!
I love planning and proctoring the formal dances. I get to see the students in their natural element, meet their dates, and watch them have fun outside of the classroom. I am excited for the upcoming Freshman/Sophomore Winter Formal in February!
Why would you recommend Central Catholic to a prospective student?
As a product of Catholic Education (Oakland Catholic '06), I can tell you, I was far more advanced than many of my peers in college. I remember vividly sitting in a Freshman English course thinking – "what do you mean, you can't write a thesis paper?" and in my science courses –"How do you not know what a pipette does?" (Thanks to Mr. Krotec at Central and PJAS for helping with that one!). The education given at Central Catholic will set your son up for a lifetime of success in college and beyond. Additionally, the network is like no other. Every single graduate will help your son – maybe to get a job, an internship, a letter of recommendation, or whatever it may be – the alumni network is strong and supportive. Choosing Central will help launch your son into a successful future!