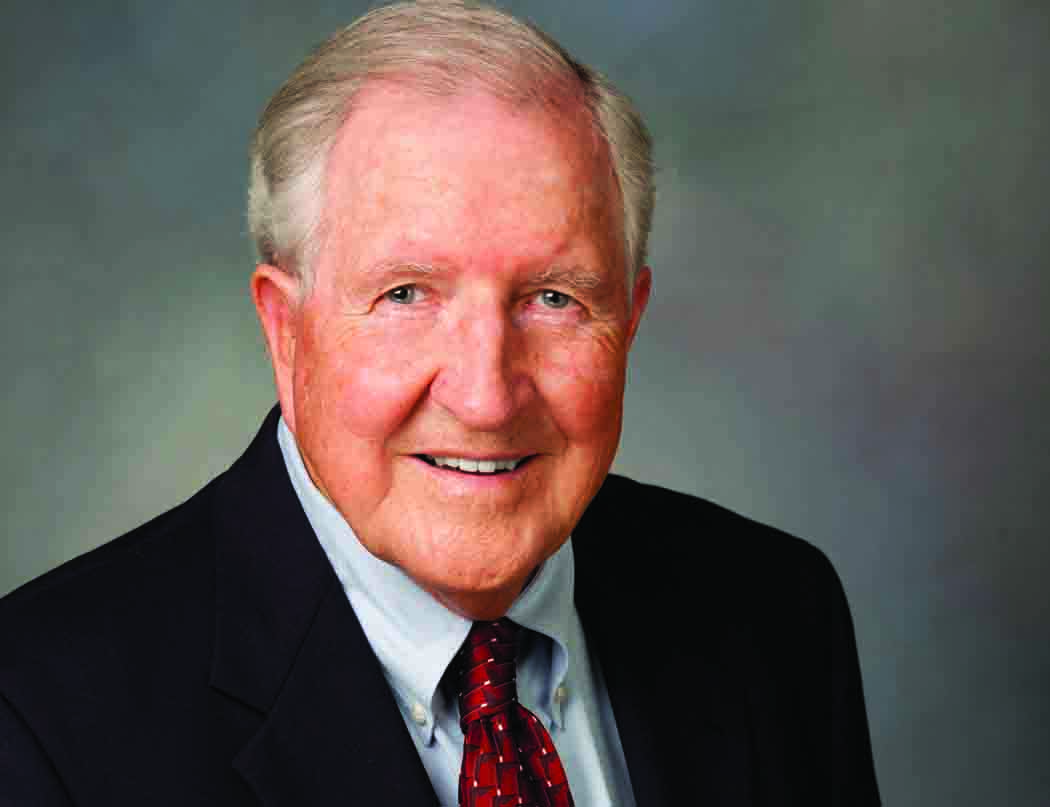 In Memory of Rudolph F. "Rudy" Zupancic, '50
It is with deep sorrow that Central Catholic informs you of the death of Rudolph F. "Rudy" Zupancic, '50, on Sunday, May 30, 2021.
Graduating from Central Catholic High School, class of 1950, he considered it to be the most important opportunity of his life. He was fortunate to enroll at Central Catholic only by virtue of the financial assistance he and his mother received from the Parish Church at St. Mary's Assumption. From very humble beginnings, after losing his father at age 5, he worked odd jobs to support his widowed mother during the depression.
The Lawrenceville native's highly successful career in the supermarket industry spanned more than 60 years. Zupancic began working part-time for a local supermarket chain as a teenager, was quickly promoted to store manager at age 19, later moving on to own four outstanding Giant Eagle stores. Rudy enjoyed a very successful career in food retailing that spanned over 70 years which have provided meaningful employment, benefits and advancement opportunities to literally thousands of Western Pennsylvanians. He was well known for his favorite saying: "The harder I worked, the luckier I got."
In recognition of his deep gratitude and appreciation of Central Catholic, he contributed to and became a member of our esteemed Lasallian Society. In 2009, he created the Rudolph F. and Patricia K. Zupancic Family Fund in the Central Catholic Endowment, which will, in perpetuity, make a Central Catholic education available to young men with limited financial resources. In 2015, he was inducted into the Central Catholic Hall of Fame.
Through his transformational gift to Central Catholic's most recent capital campaign, "The Campaign for Central Catholic: Together in Faith, Scholarship and Service", hundreds of Central Catholic students have the opportunity to receive a world-class education in his namesake facility, the Zupancic Family STEM Center.
"Mr. Zupancic embodied the spirit and the mission of Central Catholic with his dedication to making a Central Catholic education attainable for students, regardless of their financial background," said Brother Tony Baginski, FSC, Principal. "His vision of providing a quality, faith-based education to prepare students for careers of the present and the future set the tone to build a bright and prosperous future for every student who enters our doors. We are deeply indebted to his generosity, empathy and kindness in providing support to Central Catholic, a community that he was so proud to be a part of. His legacy will be felt at Central Catholic forever."
Family and friends may be received from 2 to 4 and 6 to 8 p.m. Friday at the WARCHOL FUNERAL HOME INC., 3060 Washington Pike, Bridgeville, 412-221-3333. A Mass of Christian Burial will be celebrated at 10 a.m. Saturday in St. Barbara Church of Corpus Christi Parish.
Memorials may be made to the Rudolph F. and Patricia K. Zupancic Family Fund securely online at centralcatholichs.com/give or c/o Mr. Matthew Stoessel, Central Catholic High School 4720 Fifth Ave Pittsburgh, PA 15213. Memorials may also be made to the Epilepsy Association of Western PA.
Eternal rest grant unto him and let perpetual light shine upon him. Through the mercy of God, may Rudolph F. Zupancic rest in peace.