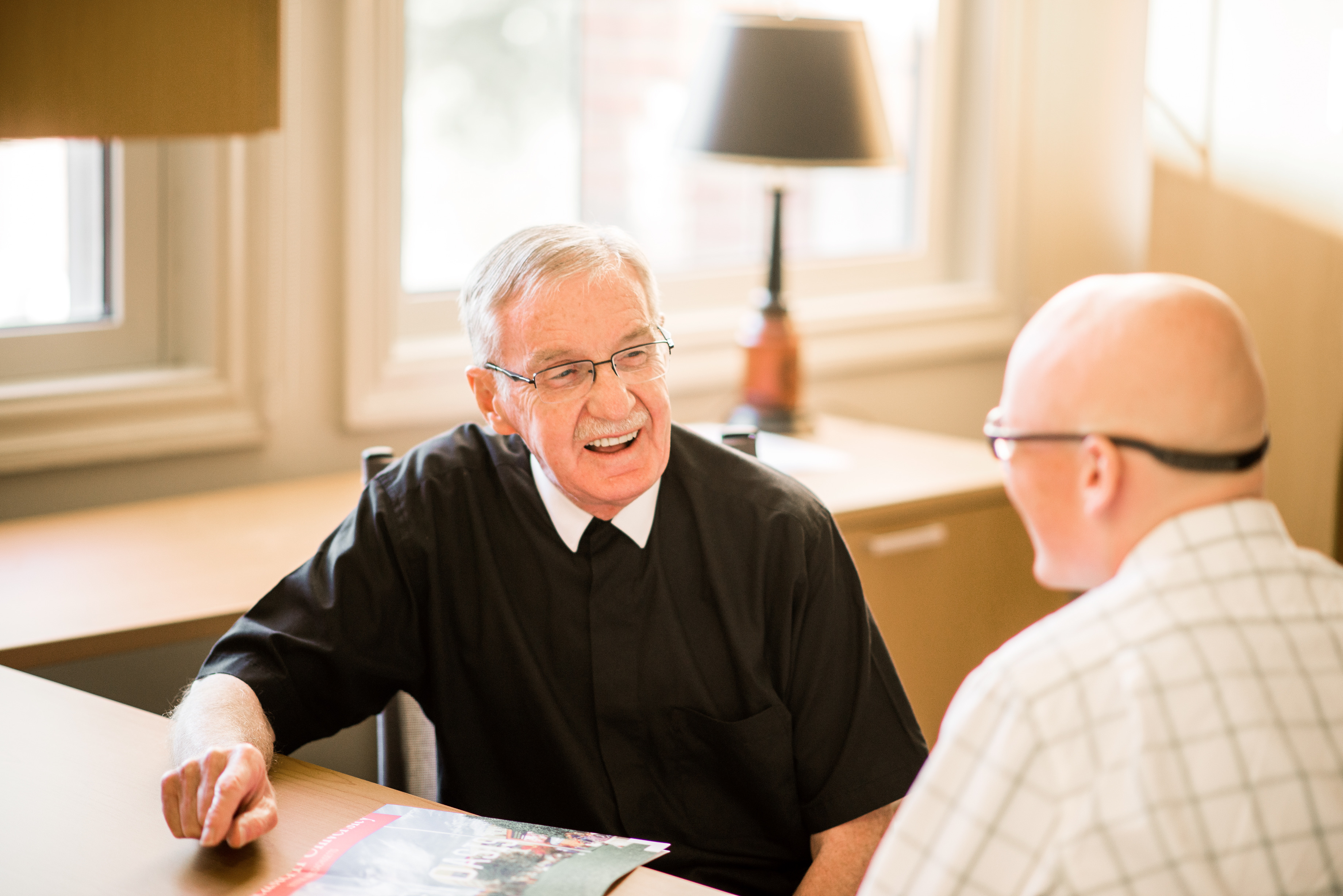 Bro. Mark Lowery, '55, Funeral and Viewing
May 24, 2021
Bro. Mark Lowery, FSC, was called home to the Lord on Friday, May 21. Bro. Mark dedicated himself to drug and alcohol counseling at Central Catholic and worked closely with the program "Greenfield Organized Against Drugs."
All are welcome to the Wake:
Wednesday, May 26, 2021
4 - 7 p.m.
McGonigle Theater
Central Catholic High School

All are welcome to the Mass of Christian Resurrection:
Thursday, May 27, 2021
10 a.m.
St. Rosalia's Catholic Church
411 Greenfield Ave.
Pittsburgh, PA 15207

A Private Burial Service will be held on Friday, May 28 at the La Salle Hall Community in Beltsville, MD.
---
Bro. Mark Lowery, FSC, '55
Bro. Mark Lowery, FSC, 84, a De La Salle Christian Brother for 65 years, died peacefully at the Christian Brothers Nursing Home in Lincroft, New Jersey on Friday, May 21. Mark was the son of the late Michael Joseph and Catherine Coyne Lowery and brother of the late Joe Lowery (Joann), Martin Lowery (Mary Lou), Jack Lowery, Patrick Regis Lowery, Peggy Sullivan (Joseph) and Sister Mary Mark, IHM. Bro. Mark is survived by his sister-in-law, Tillie Lowery as well as 24 nephews and nieces, 42 great nephews and nieces, 28 great, great nephews and nieces, and 1 great, great, great nephew and niece.

Bro. Mark grew up in the Greenfield section of Pittsburgh in St. Rosalia's parish. Shortly after graduating from Central Catholic in Pittsburgh, Bro. Mark entered the Christian Brothers on September 7, 1955 as Brother Edwin Mark. He went on to La Salle University where he earned both a bachelor's and a master's degree. Bro. Mark served faithfully at West Philadelphia Catholic for Boys as teacher and Vice Principal, Bishop Walsh in Cumberland, MD as Principal, at his alma mater Pittsburgh Central Catholic as Director of Alumni, and at Michael's Place in the Stanton Heights section of Pittsburgh as a drug and alcohol counselor.

In his retiring years, Bro. Mark dedicated himself to drug and alcohol counseling at Central Catholic and worked closely with the organization the Greenfield Organized Against Drugs Program. Bro. Mark helped many people in his lifetime with their recovery from addiction especially the young and imprisoned.

In lieu of flowers, donations can be sent to Central Catholic High School Advancement Office c/o Mr. Matthew Stoessel 4720 Fifth Ave Pittsburgh, PA 15213. Donations can also be made securely online at www.centralcatholichs.com/give. Donations can also be made to Greenfield Organized Against Drugs c/o Dr. Bernard Bernacki, 521 Greenfield Ave Pittsburgh, PA 15207