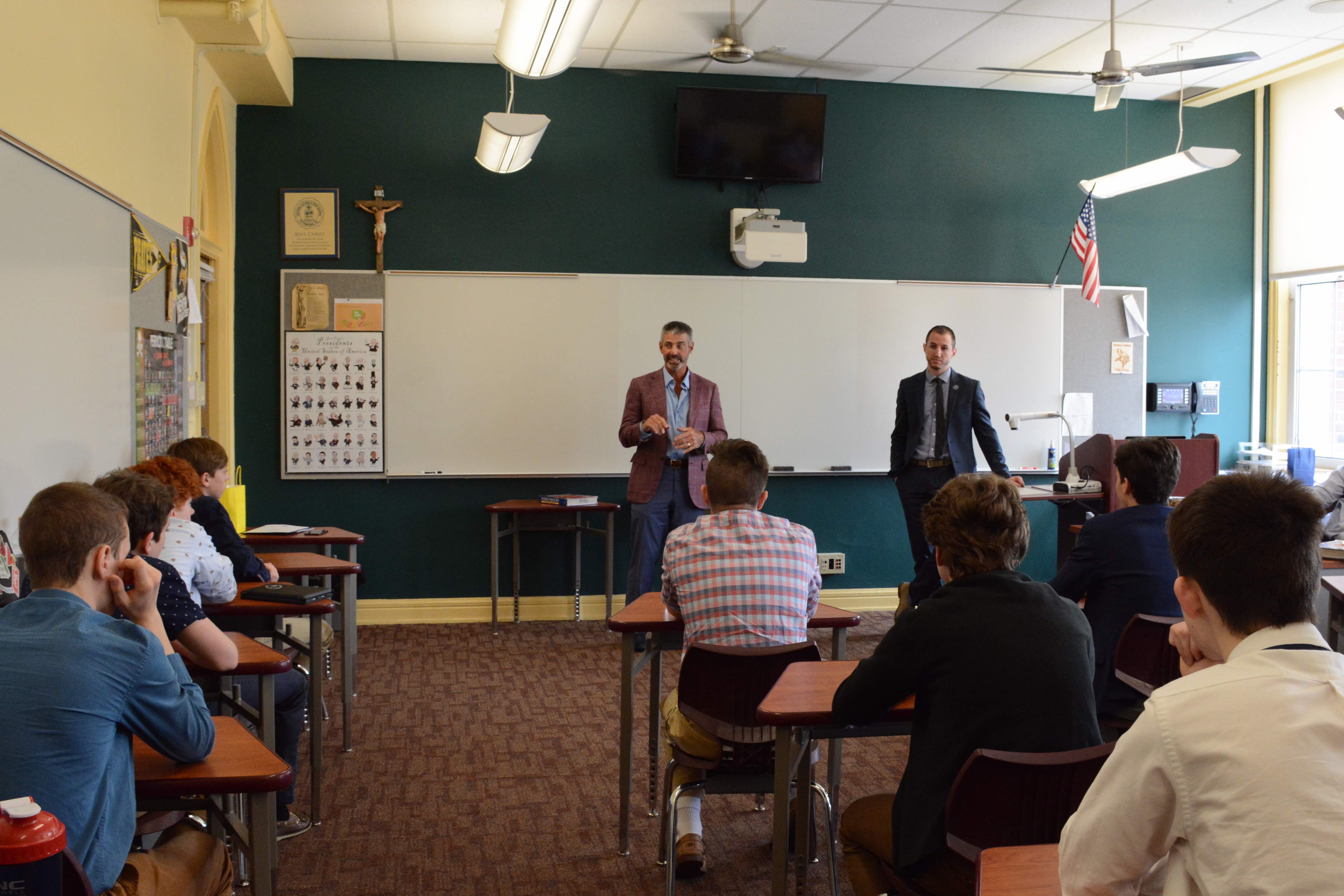 Students Gain Real World Insight During Third Annual Career Day
On Wednesday, May 1, 2019, Central Catholic welcomed 60 alumni for the third annual Career Day. During the day-long event, alumni shared their career experiences and advice with rising sophomores and juniors. The event featured a keynote address from Dr. Tim Ryan, '75, President of the Culinary Institute of America.
Thank you to the alumni below for sharing their time and talents with our students! See photos on Facebook.
Accounting
Blake Covington, '03, Manager at Deloitte LLP
Edward Friel '84, Shareholder at Schneider Downs
Brendan Marchione '08, Tax Specialist at Schneider Downs
Nate Novocco '10, Audit Senior at Schneider Downs & Co., LLC.
Communications
Brian Cook, '98, International Award-Winning Multi-Media Journalist and Filmmaker
Kevin Shields, '79, Assistant Systems Administrator at Allegheny county
Education
Todd Pipkin, '87, Head of School Rocky Mountain Prep (NC)
Engineering
Collin Gibbons '95, Senior Project Manager at Massaro Construction Group
Bill Gross '80, Vice President (Transportation) at HDR Engineering, Inc.
Bob Hurley '76, Pennsylvania Business Development Durector, GAI Consultants
Mark Ritchie '80, Executive Vice President at Providence Engineering Corporation
Daniel Sweeney '81, VP of Engineering at Lucas Systems
Exploratory
James Fitzpatrick '70, Retired VP of Student Affairs - Higher Education Professional
Finance
Jon Amodeo '89, Financial Advisor at Northwestern Mutual
Jim Meyers '88, Senior Vice President at Morgan Stanley
John Staley '61, Founder and President at Staley Capital Advisers Inc.
Tim Steitz '82, Executive Vice President/Owner at Sauer Holdings, Inc.
Fine Arts
Gregory Lehane '65, Professor Emeritus, Drama and Music at Carnegie Mellon University
Thomas Kolos '99, Actor, Gallery of Heroes Educational Tour at Pittsburgh Civic Light Opera
Justice & Law
Rich Andracki '65, Partner at Andracki, Sysak & Artman, PC
Elliot Howsie '86, Chief Public Defender Allegheny County, Court of Common Pleas Judge Nominee
Jack McGinley '61, Trial attorney at Eckert Seamans Cherin & Mellott
Casey Mullen '92, Attorney at The Law Office of Casey P. Mullen
Charlie Possino '11, 2nd year law student at Duquesne University Law School, President of Duquesne University Law School's Student Bar Association 2019-2020
Law Enforcement
Jim Muha '87, Retired FBI Special Agent
Scott Seserko '03, Police Officer City of Pittsburgh
Marketing
Paul DeSabato '84, Owner/managing member at Bella Capelli Academy
Eric Starkowicz '95, Director of Industry Relations at Master Builders' Association
Medical/Healthcare
Dr. Tony DiGioia '75, Medical Director of the Bone and Joint Center at Magee-Womens Hospital
Joe DiRenzo '00, Pharmacy Manager - Walgreen's
Herman Donatelli '68, Prosthodontist/Owner at Herman A. Donatelli, DMD
Jon Scholl '04, Pain management specialist at IRMC Physician Group
Military Careers
Dario Donatelli '06, Captain at United States Marine Corps
Ben Stahl '96, Executive Director at Veterans Leadership Program of Western PA
Networking Skills
Br. Mike Andrejko '86, Director of Contacts District of Eastern North America
Jim Johns '70, Retired Director of Outpatient services Community Mental Health Services
Ken Mori '66, ABCTE coordinator/Staff/Adjunct faculty Point Park University
Ken Sinagra '00, Financial Advisor at Northwestern Mutual
Real Estate
Grant Bacharach '03, Mortgage Loan Officer at Howard Hanna
Sean Kelly '05, Realtor at Howard Hanna Real Estate
Sales & Management
J. Kirk Freyvogel '79, Co-owner/Funeral Director at JOHN A. FREYVOGEL SONS, INC.
Frank Perman '79, Funeral Director AT Perman Funeral Home and Cremation Services, Inc
Frank Porco '91, Regional Sales Director, Commercial - Mid-Atlantic / Southeast at AST Corporation
Frank Quirin '06, Account Manager at Atlas Wholesale Supply Inc
Tim Ryan '75, President of The Culinary Institute of America
Science Careers
Jim Burrows '08, Graduate Student at University of Pittsburgh
Neil Carleton '13, Graduate Student at University of Pittsburgh
Richard Garstka '63, Retired Chemist Bettis Atomic Power Laboratory
Bill Hawse '99, Research Assistant Professor, Department of Immunology, University of Pittsburgh
Sports Careers
Kyle Goldcamp '04, Assistant Athletic Director at CCHS and former professional basketball player
Kevin Miller '88, Athletic Director at Winchester Thurston School
Len Pasquarelli '68, 35+ year NFL Sportswriter, 2008 Inductee to Pro Football Hall of Fame Writers Wing
Regis Visconti '08, Certified Athletic Trainer at UPMC Sports Medicine
Technology
Thomas Kolano '86, Professional Services Transition Manager at Virtustream
Mike Smialek '67, Computer Network and Systems Engineer
Nate Williams '06, UX Designer at DICK'S Sporting Goods
Trade/Technical
Terry Quirin '05, Welder Fitter at Steamfitters Local 449
David Wick '00, Landscape Supervisor at Central Catholic High School