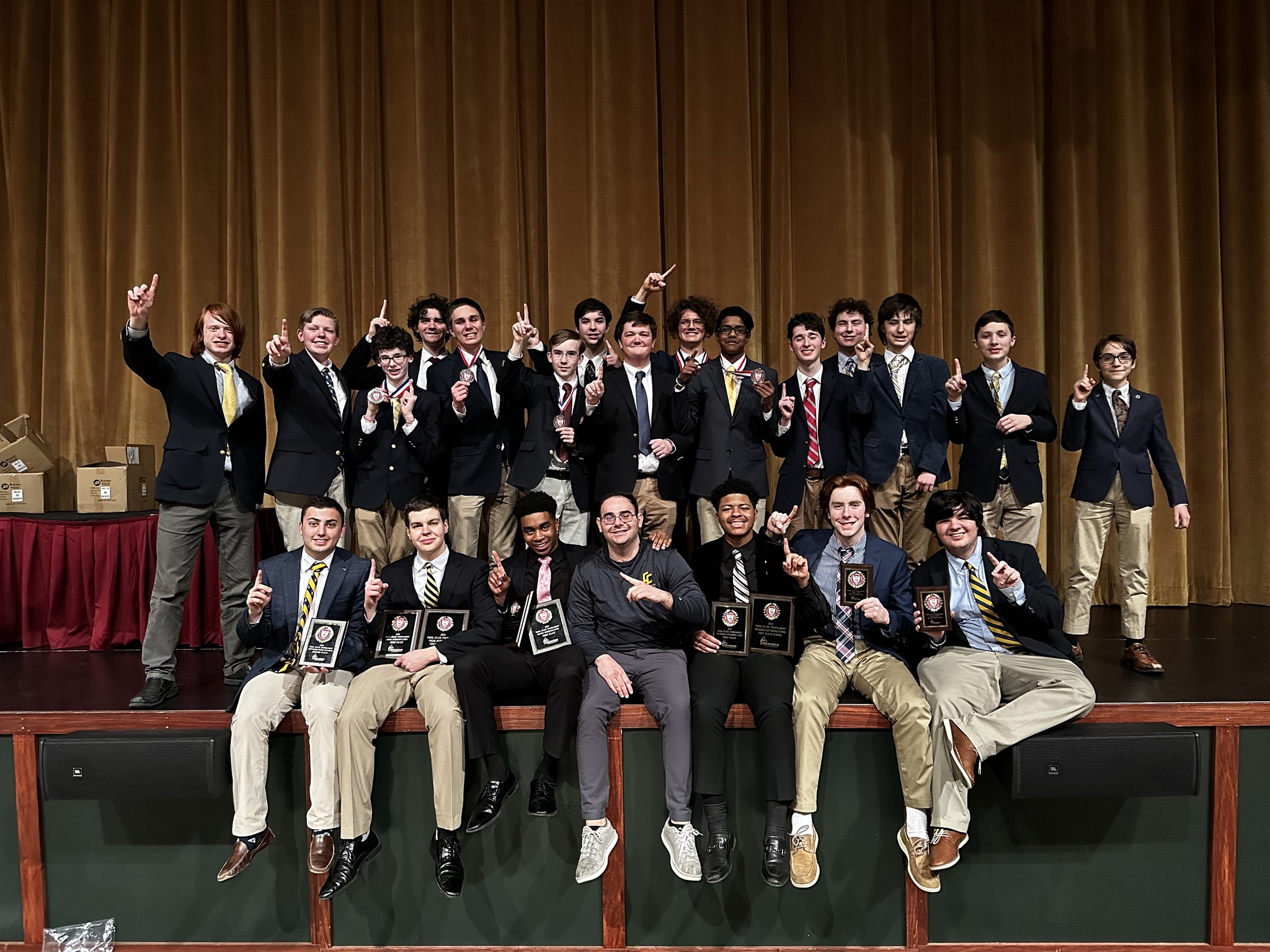 CCFS: Back-to-Back PHSSL PA State Champions!
It was a weekend filled with great news for the Central Catholic Forensics Society at the PHSSL PA H.S. State Championships in Bloomsburg, PA. Central Catholic had three students crowned state champions in speech events, and the CCFS claimed their second consecutive PA state championship trophy!
On March 17-18, 21 Central Catholic Forensics Society members traveled to Commonwealth University for the PHSSL PA High School Speech & Debate Championships. Close to 600 students representing 80 schools from across Pennsylvania gathered en masse at Bloomsburg, PA for the annual capstone event of the PA speech and debate season.
After engaging in two days of intense competition, Central Catholic once again claimed the PHSSL PA H.S. Speech & Debate Team Championship trophy for medium-sized schools. This represents the second consecutive year that the CCFS team has brought home a PA speech and debate championship, a feat last accomplished by Central in 1974 - 1975.
Four CCFS competitors made it to the final round in their respective events, with three boys crowned PA State H.S. Champions at the awards ceremony on Saturday evening. This represents the largest number of individual state champions for Central Catholic at the PHSSL state tournament since the late 1960s!
Fourteen CCFS competitors in total broke to elimination rounds in their events, with eight boys advancing to the semi-final rounds (or beyond).
Congratulations to the following CCFS individual award-winners at PHSSL States:
Luka DePasquale, '24 - 1st Place / State Champion - Prose Interp. (This represents Luka's 2nd consecutive state title)
Amari Smith, '23 - 1st Place / State Champion - Poetry Interp.
Aidan Nicholas, '23 - 1st Place / State Champion - Humorous Interp.
Jack Sabo, '23 - 2nd Place / Finalist - Extemporaneous Speaking
Xavier Ramirez, '23 - 7th Place / Semi-Finalist - Extemporaneous Speaking
Matthew Evans, '25 - 7th Place / Semi-Finalist - Informative Speaking
Ryan Gabrielse, '26 & Amudhan Gandhi, '26 - 7th Place / Semi-Finalists - News Broadcasting
Benjamin Wingerter, '24 -12th Place / Semi-Finalist - Poetry Interp.
Michael Brienza, '24 & Michael Murphy, '24 - Quarter-finalists - Public Forum Debate
Santino Balistrieri, '25 - Octo-finalist - Lincoln-Douglas Debate
Peter Elder, '23 & Noah Hudson, '23 - Octo-finalists - Public Forum Debate
A hearty "well done" is also offered to CCFS head coach Mike DePasquale, '15, assistant head coaches Paul Beer '19 (Speech) and John Hollihan '20 (Debate), and all of the individual event coaches. Each coach contributed significantly to help make the 2022-2023 CCFS forensics season truly one for the record books!