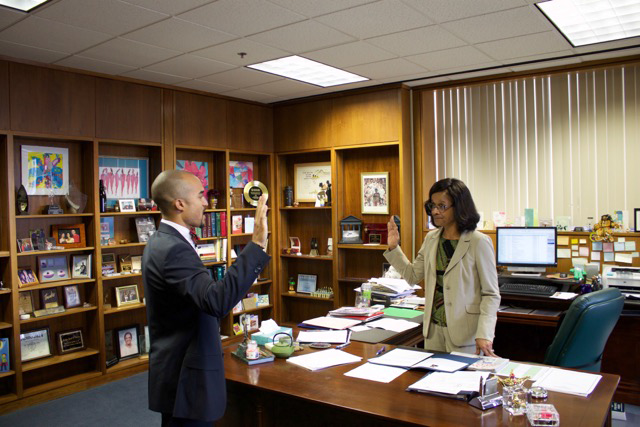 ​Alumni Spotlight: Meet Eric Charity, '06
​​Eric Charity, '06, recently passed the bar exam to become a licensed lawyer in the state of Georgia, in addition to the state of Virginia.
Eric Charity, '06, recently passed the bar exam to become a licensed lawyer in the state of Georgia, in addition to his license to practice in the state of Virginia.
Graduation Year: 2006
Hometown: Penn Hills, Pa.
Now living in: Atlanta, Ga.
Undergraduate Degree: Bachelor of Arts, International Politics at Penn State University
Advanced Degree: Juris Doctor, Law at the College of William & Mary
Tell us about your current position.
Currently, I am an associate attorney with Kilpatrick Townsend & Stockton LLP in the Atlanta office. I am entering my fifth year of legal practice. Here at Kilpatrick, I am part of the Real Estate Finance and Capital Markets team. My current practice consists of three different prongs: distressed debt, capital markets, and finance.
What was your career path from high school graduation until now?
Since high school, I have always known I wanted to be a lawyer. History and Spanish were always my favorite courses at Central Catholic. Because of these courses, I ultimately decided to major in International Politics and minor in Spanish at Penn State. I became fascinated with how governments operated and the laws that various countries put in place to elevate their power and status throughout the world.
Also, while attending Central, I was fortunate enough to be accepted and attend two summer programs that fueled my desire to become an attorney. After my sophomore year, I was a summer fellow in the Junior State of America summer program. For about 6 weeks, I lived on Princeton University's campus with students from all over the United States. The program is designed to introduce students to politics, international relations, and economics. That summer consisted of intense study, debate, and learning that changed my life. Following my junior year, I was accepted into Pennsylvania's Governor's School of Excellence for International Relations summer program. This program was an intense 6 week program that was housed on the University of Pittsburgh's campus. Here, I dove into international relation studies and learned Portuguese for the summer. I met students from across Pennsylvania from all cultures and creeds. After attending both programs, I realized that many of my instructors had one thing in common: law degrees. I knew that this was the profession I wanted to pursue.
During my senior year, I knew that I would no longer qualify for summer programs as college was the next step. I knew, however, that I didn't want to sit on the couch waiting for college to begin. So, I took matters into my own hands. Brad Cameron, '06, was my good friend and classmate while I was a Central Catholic. Brad's father, Mr. Douglas Cameron, was and is still is a partner at Reed Smith LLP, a large law firm headquartered in Pittsburgh.
I asked Brad if he would speak to his father about securing me an internship with Reed Smith that summer before I started college. Thankfully, Brad spoke to his father and Mr. Cameron was able to secure me a paid internship with Reed Smith. That summer, I worked with then partner and now Federal District Judge Cathy Bissoon on her various litigation matters. I was exposed to legal writing and research, depositions, pro bono matters and client meetings. After this internship, I knew the legal career was for me. I am forever grateful to Brad, Mr. Cameron, and Judge Bissoon for that summer. Upon entering college, I then followed the necessary steps to be admitted into law school so that I could pursue a legal career.
Why did you choose to attend Central Catholic?
I attended Central Catholic because of my older brother, Garrett Charity. He is a 2001 graduate of Central Catholic. Ultimately, my parents believed in the values and discipline that a Catholic education instilled into their students. My brother and I both attended St. Bartholomew Catholic Elementary School located in Penn Hills. We were already a part of the Catholic education system and St. Barts gave us a solid academic and religious foundation. Central, however, took us to the next level.
The single-sex environment allows a young man to focus and develop those qualities that are essential for adulthood. Central Catholic forced my brother and me to focus not only on our own development and goals but also how we could impact and uplift those less fortunate than ourselves. Central made it cool to be smart in the classroom and dominate our opponents on the sports field. It taught us the values of respect, hard work, loyalty, faith, and service.
I think one of the best aspects of Central is its physical location. Oakland is a culturally diverse area that has three different colleges with students from all over the world. I had track practice at Carnegie Mellon, I studied every day at the Carnegie Library, and walked through Pitt's campus almost every day of my high school career.
Do you have a favorite high school memory?
I have two favorite high school memories. My first favorite was my induction into the National Honor Society. My brother had achieved this during his time at Central Catholic and it was my academic goal to follow in his footsteps and do the same. What made this induction sweeter was the fact that like my brother, we were the only African-Americans in our class to be inducted. It showed us that we could compete with anyone and in any environment. It made the countless hours of study and missed weekends worth it to achieve this academic honor. Academically, Central Catholic is hard in general, but to be able to academically perform at the highest level and make your parents proud was the ultimate achievement.
My second favorite memory was winning the WPIAL Long Jump. For four years, I had put in the hard work on the track and on the ramp to be a champion. Coach Lucas worked with me four years to perfect my technique, my strength and conditioning and focus to bring home the championship. There is no better feeling than setting your goal and achieving that goal at the championship meet. Again, it made all the hard work worth it.
How did a Central Catholic education help you achieve your goals?
Central Catholic taught me discipline. During my Central career, I was in many honors and AP courses that were extremely difficult. When you take these courses, you either rise or fall. The only way to excel in these courses is hard work and focus. Central Catholic taught us that if you legitimately worked hard you would be rewarded in the end. To this day, I can honestly say that academically, Central Catholic was harder than college. The focus and discipline that I learned at Central prepared me for the rigors of law school and the focus required to study for multiple bar exams.
What advice would you give to the Class of 2018?
My advice to the Class of 2018 is to approach any goal, task or obstacle in life at full throttle and at 100%. If you choose to start something, make sure you finish it and work on it to the best of your ability. There is no time for mediocrity. We must strive to be extraordinary and exceptional in all aspects of life. Life is simply too short. If we fail, get back up, but you will always know in your heart that you gave it everything you had in the end. There is nothing worse than failing knowing you didn't give it everything you had.
Finally, treat everyone with respect, love, and dignity. There is a lot of divisive rhetoric going on in our world today. Actions that divide, separate and treat others unequal have no place in our society. Do not be afraid to speak up if you see or hear such language or actions. You are the future leaders of our world and communities. It is up to each citizen to hold the other accountable. As the great Martin Luther King, Jr. once said, "Injustice anywhere is a threat to justice everywhere. We are caught in an inescapable network of mutuality, tied in a single garment of destiny. Whatever affects one directly, affects all indirectly."