A Welcome from the Principal
Welcome to Central Catholic High School! For over 90 years, Central Catholic has provided a high-quality Catholic, Lasallian education to boys from Pittsburgh and Western Pennsylvania. Lasallian education is the story of the vision and innovations of Saint John Baptist de La Salle, founder of the Brothers of the Christian Schools.
Dear Fellow Vikings and friends of Central Catholic,
It is tough to imagine that when I first came to the hallowed halls of 4720 Fifth Avenue in 1982, my eventual return would entail the principal's role at Central Catholic. It is an honor and, at the same time, humbling to stand on the shoulders of many Christian Brothers and Lay Lasallians who have contributed to our school's legacy and tradition for the last 95 years!
Many of you already know that great things are happening at Central, from the physical facility's improvement to enhancing our academic and athletic programs. Times are different in the 21st Century, but many core values hold us together in addition to the "Mystique" of a Central Catholic education.
In the future, it is crucial to emphasize our core values so that the young men who are entrusted to us leave the Central Catholic experience ready to face a world that so desperately needs genuine and highly educated people who are committed to others.
We do this at Central by intentionally emphasizing our fraternity which encompasses forming relationships that exemplify how we are to relate to the world outside of the walls of 4720. First, our young men must understand that they are valued, have human dignity, and have God-given talents. It is only by treating everyone as a child of God and meeting the needs of each student where they are that we can be united in a common bond and actualize each young person's vocational calling in life.
Second, we must deliberate in directing our young men to take responsibility, for being one human family, by taking their gifts and talents and sharing them with their fellow brothers and sisters to build our typical home. It doesn't take much time to figure out, in our world today, that men of integrity and character are needed and essential.
Third, we can always point to our many graduates, who have taken up the call of being men for others, as examples of persons who have gone through Central and are making the world a better place.
I firmly believe that these values must be our true center so that we may live out our calling as a Catholic, Lasallian School with our optic centered on our God. If we continue to achieve our center, Central will be a quality, Christ-centered school for all who pass through its doors. One that does not exist for itself but for the love of humankind.
I encourage you today, as always, to continue to support Central Catholic in any way that you can. It takes a community of persons to continue to ensure the tradition of Central Catholic!
I look forward to being with you during this time and encourage you to reach out and come by anytime to see the great things happening at Central.
You are all in my thoughts and prayers.
In the Founder, St. John Baptist De La Salle,
Brother Mike Andrejko, FSC
Principal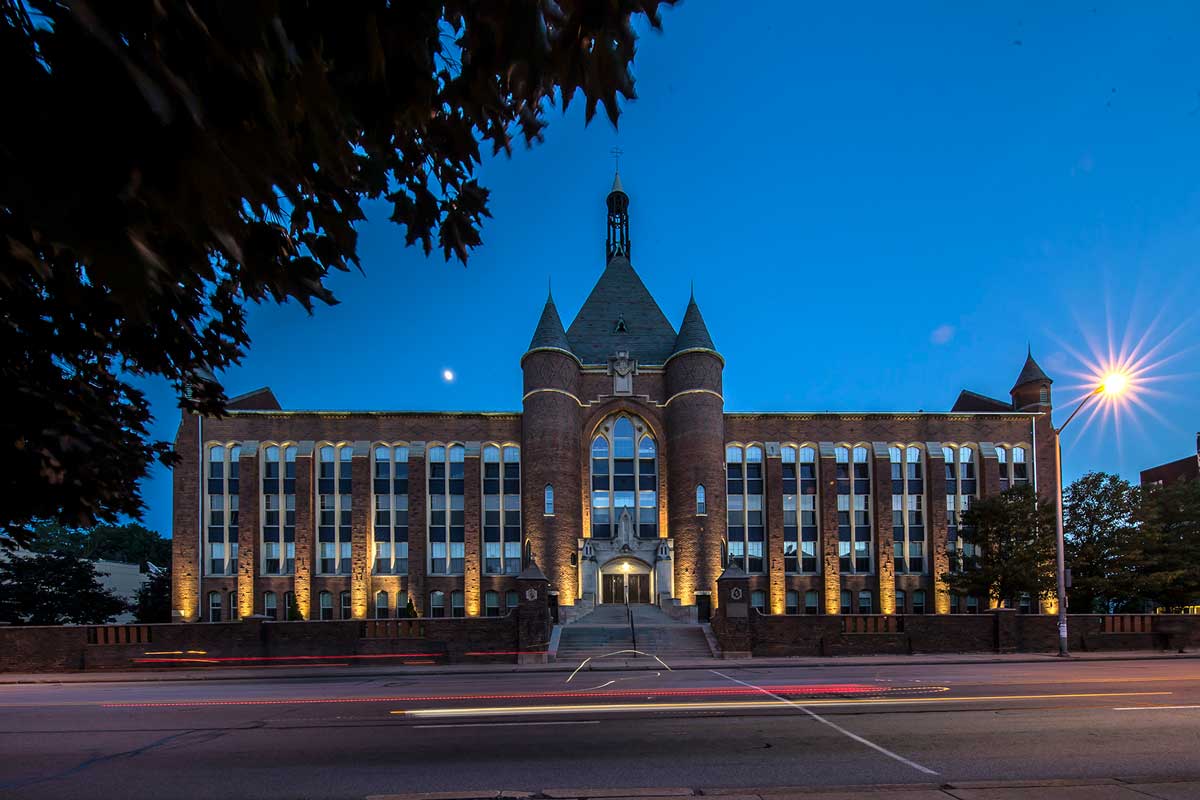 Central Catholic at a Glance
Start here to learn the basics of the Central Catholic community.